20 September , 2023: On the occasion of International Coastal Cleanup Day Allcargo Group an Indian global logistics conglomerate collaborated with its' NGO partner, Swachha Vasundhara Foundation, to promote environmental sustainability and maritime health. The Swachha Vasundhara Foundation is supported by the Maharashtra Forest Department. Over 1,000 volunteers who took part in this initiative, were NGOs, Navy personnel, NCC Cadets and students from 18 colleges.
The main contribution of this initiative was the restoration of 2.5 acres of an area that hosts vital mangroves and cleaning up Mangroves and the beach at Carter Road.
Head – CSR, Allcargo Group, Dr. Nilratan Shende mentioned that their dedication to environmental sustainability was reflected in this collaboration. Allcargo, he added, was committed to eliminating waste, fostering responsible environmental practices and adopting renewable energy sources through its Allcargo Greens and Maitree initiatives. AllCargo Group remains committed to achieving ongoing carbon neutrality by the year 2040 which was one of its key Environmental, Social and Governance or ESG goals. The Allcargo group believes in and inspires collective action for a greener and better future.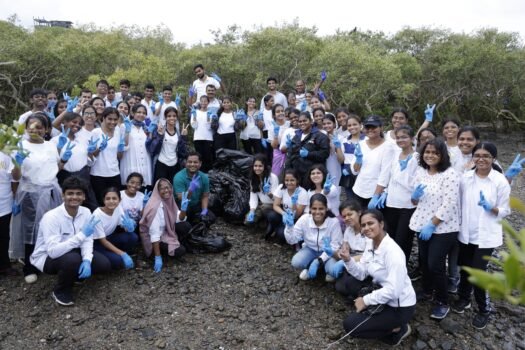 Joint Director of Mangrove Foundation & Divisional Forest Officer of Mangrove Cell Mumbai, Adarsh Reddy, mentioned that they were happy to receive such an overwhelming response from the community. He said that while the Government initiates activities like these, its only collective efforts that drive the sustenance of these initiatives. Mumbai, he added has 10 NGOs who have voluntarily rallied people for significant contributions towards environmental cleanup Swachha Vasundhara Abhiyaan and Allcargo Group deserve applause for this people centric movement. He was of the belief that with the increasing awareness of people towards their environment, such cleanup initiatives will no longer be needed.
The Avashya Foundation's the CSR arm of Allcargo Group engages in diverse initiatives and the promotion of maritime health is a major one. The Maitree initiative is aimed at fostering sustainable livelihoods for farmers as well as preserving the environment. This initiative has seen the plantation of 10 lakh trees and impacted 20,000 tribal farmers lives positively by promoting self-reliance and economic empowerment.
#AllcargoGroup #SwachhaVasundharaAbhiyaan #Internationalcoastalcleanupday #DrNilratanShende #AdarshReddy #Mangroveplantation #Maritimehealth #environmentalawareness #sustainibility