18th July, 2023:Ayana Renewable Power, one of the largest Independent Power Producers (IPP) in India and backed by National Investment and Infrastructure Fund (NIIF), British International Investment (BII) and Green Growth Equity Fund, has inaugurated a state-of-the-art skills development centre to provide vocational training for the youth in the northern Karnataka region of Gadag District. It aims to transform a new generation of the local workforce by equipping them with the right skills for inclusive employment and economic growth.
The vocational training program will be conducted in Gadag District where Ayana's 300 MW wind power project is located and currently under construction. Specifically, it will provide courses on Customer Relationship Management (CRM) and Data Entry Operations targeting young people who  reside in and around the project area. 
In the first phase, Ayana and corporate training partner Fuel (Friends Union for Energising Lives) will operate the centre in Gadag, with plans to skill over 200 young people on Level 4 of the National Skill Qualification Framework (NSQF). To be delivered in-person for best learning experience, the program will span over six months and further assist graduates in job matching. This initiative is especially important as most of the local population is agrarian and there is considerable migration from the region due to lack of decent and alternative job opportunities.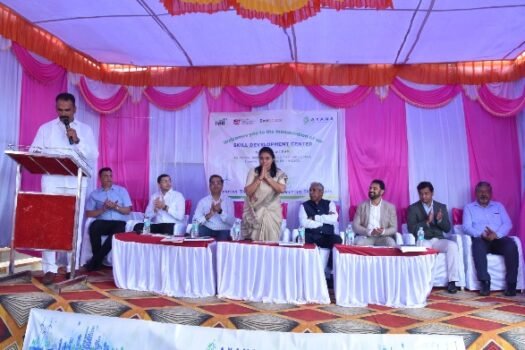 Commenting on this Shivanand Nimbargi, MD & CEO of Ayana mentioned "Community Development is a core activity that Ayana undertakes at all its project sites, and we are delighted to bring this to our project site in Gadag. I am confident that the skills development centre will provide the much-needed platform for the local youth to upgrade their knowledge and skills for a better and brighter future."
Alex Ellis, British High Commissioner to India, said: "We are delighted to see that Ayana is expanding its community development programme with support from British International Investment. These programmes will help to reduce poverty, produce clean and affordable energy and promote gender equality."
Vinod Giri, Managing Partner, Direct Investments at NIIFL (National Infrastructure and Investment Fund Limited) commented" Ayana was set up with a vision to empower people and communities through its journey of becoming India's lowest cost firm power producer. As a controlling shareholder in Ayana, we are delighted to see the impact it has created through similar initiatives in the past and are excited to bring this to our second site in Karnataka."
Manav Bansal, MD and Head of India at British International Investment, the UK's development finance institution and impact investor, said: "We are proud to have participated in and supported Ayana's up skilling programmes, which are transforming local workforce, particularly women, with the right job-ready skills in the clean energy sector. . The new Gadag centre is an important milestone for our collaboration with Ayana as it creates job opportunities for local communities and contributes to a more productive, sustainable and inclusive economy."
The inauguration of the training centre was attended by prominent individuals from the community and a significant number of students who have shown an interest and commitment to join the course.