Consistent Infosystems Pvt. Ltd. a fast-growing Indian IT manufacturing brand has recently embarked on the initiative of providing internships to students from Government Industrial Training Institutes or IT1's.
This program is a unique opportunity for a hands-on training and industry exposure to the students while they learn. They will gain access to a real-world working environment as well as practical insights into the field chosen by them. The practical training will expose them to cutting edge technologies and industry standard processes. This practical experience that they gather will equip them with the requisite skills for future employment.
Consistent understands that industry relevant skills are very important for the students, therefore provides them with exposure to best practices, specialized techniques employed by the company in their chosen field, its' work methodologies and so on.
The aim of the internship program is to foster a holistic development approach, nurture technical and also develop the essential soft skills like communication, problem solving and team work. A majority of the students come form the weaker sections of society. Their families work in the unorganized sector, as vegetable sellers, drivers and so on.  This training is a step in the direction of breaking the barriers of income inequality, as they can utilize their technical knowledge and skills provided by Consistent to gain employment.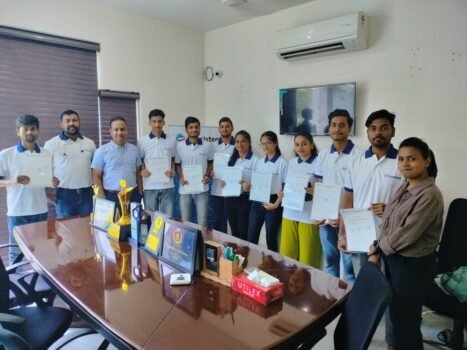 CEO & Co-Founder, Mr. Yogesh Agrawal, and Founder & MD, Consistent Infosystems Pvt. Ltd. Mr. Nitin Bansal, said that these internships are not only a criterion for identifying and recruiting talented individuals for future employment, but bears a testament to their commitment to social responsibility through the educational support and the professional development that the Govt. ITI students receive. 
Central Head, Delhi ITI Centres (CII MCC) Kavita Roy, while commenting on the partnership expressed her gratitude to Consistent Infosystems for their support.  She was thankful that approximately 12 students from CNHM and Electronic Mechanic Trade studying in it is have been supported though OJT by Consistent. She went on to add that these students appeared brighter, motivated and confident. This has also motivated the other students. She sought the support of Consistent for the next academic session 2023-24.
Through this initiative Consistent has initiated a culture of practical knowledge and skills along with regular learning for the Govt.ITI students.
#GovtITI #ConsistentInfosystemsPvtLtd # YogeshAgrawal #NitinBansal #KavitaRoy #ITmanufacturing #Internshipprogram #handsontraining #softskills #practicalknowledge