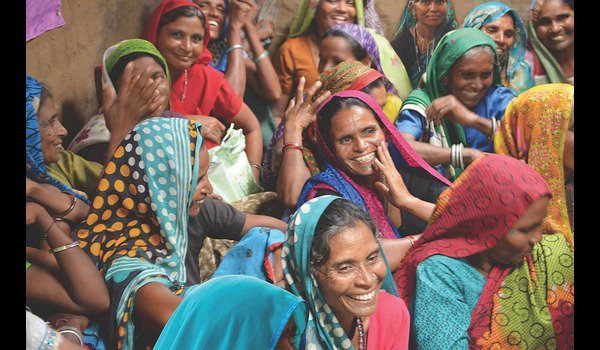 India, January 2022: Retail titan Marks & Spencer aligned profits from sales of masks (M&S product) in stores to Goonj to support the livelihood of women making masks and MyPads for distribution with family kits to rural communities in Uttarakhand, Delhi, Bihar, Uttar Pradesh, Rajasthan, Tamil Nadu, Jharkhand, Odisha, West Bengal, Maharashtra, Chhattisgarh, Madhya Pradesh, Karnataka, etc. Two hundred thousand masks and twenty-six thousand clean cloth sanitary pads (MyPads) were produced by 40 women from less privileged communities in Goonj's processing centers in Delhi, Chennai and Rishikesh over six months. These women were paid for making the masks and My Pads during that time to support their livelihood.
In collaboration with Save The Children, India, Marks & Spencer distributed four thousand two hundred PPE kits and four thousand two hundred N95 masks to doctors, nurses, midwives, ward boys, sanitary workers, health post workers, dispensary staff in seventeen government run hospitals and maternity wards in two major East & North wards in Mumbai.
Furthermore, in an attempt to promote plastic circularity and livelihood, Marks & Spencer in association with Vrutti initiated a Social & Environmental Project to dispose waste plastic responsibly while providing livelihood support to lesser privileged communities in the process. Eleven people of which 78 % were women from marginalized communities were empowered with livelihood support for themselves and forty-five family members.
"We at Marks & Spencer have collaborated with Fuzhio, and Vrutti to advance transformative change by preserving and promoting sustainability measures while also improving the livelihoods of vulnerable communities. We are humbled, grateful & extremely proud of our partnerships and innovative initiatives which have helped deliver a positive social & environmental impact." added TG Ganesh, Sustainability – Head at Marks & Spencer Reliance India P Ltd.