5 August, 2023: HelpAge India, an NGO (Non-governmental organisation)that focusses on addressing the needs of vulnerable elders and Procter and Gamble Health Limited a VMS company that manufactures and markets vitamins, minerals, and supplements products for a healthy lifestyle to enhance the quality of life, launched a Mobile Healthcare Unit in Guwahati District. This was a CSR SEHAT in undertaken by Procter and Gamble Health Limited. The company has committed to contributing towards a healthier India, under SEHAT.
CEO HelpAge India, Rohit Prasad, said that with the launch of the Guwahati MHU quality healthcare support will be provided to the vulnerable and disadvantaged elderly right at their door step. This was a much needed service in the district. Approximately 40,000 treatments will be provided every year to the senior citizens and their communities. He was appreciative of the long standing support of the eldercare and health care projects of HelpAge India and Procter and Gamble under its SEHAT initiative. The Healthcare projects that's received support are located in Puri (Odisha) and Khandwa (Madhya Pradesh.)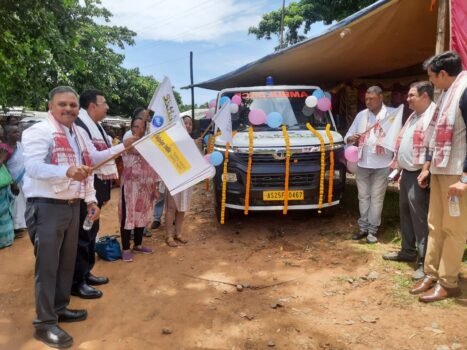 The MHU was flagged off from Gobardhan Grant village in Kamrup Metropolitan District by Mr. Milind Thatte, Managing Director, Procter and Gamble Health Ltd and Sharmila Majumder, Territory Head – West Bengal and North East.
Managing Director, Procter & Gamble Health LimitedMilind Thatte said, that it was their belief that every individual without any discrimination of age needed access to quality healthcare. He mentioned that since 2020 they had been partnering with HelpAge and had supported their mobile healthcare programmes in Mumbai to offer essential healthcare services to the needy elderly in rural areas in and around Guwahati. He added that their interventions through SEHAT would continue with the aim of providing more people across all levels of society with a healthier life.
The total strength of Helpage India's MHU network all over the country is 160. These MHU's each year provide medical relief and treatment covering even the most remote and inaccessible regions in India to about eight lakh needy elders and their communities.
The poor elders are saved from long queues at hospitals and transportation costs and medicine costs through the mobile healthcare programme. Procter and Gamble Health Limited offers support through free medication on a weekly basis. The team of MHU also monitors the health of the poor beneficiaries on a regular basis. Health cards are provided to them and records of their treatment are maintained. The other facilities include basic diagnostics, counselling of patients, caretakers and the members and home visits for bed ridden patients.
#MHU #HelpAgeIndia #SEHAT #ProcterandGamble #RohitPrasad #MilindThatte #Poorelders #disadvantagedelders