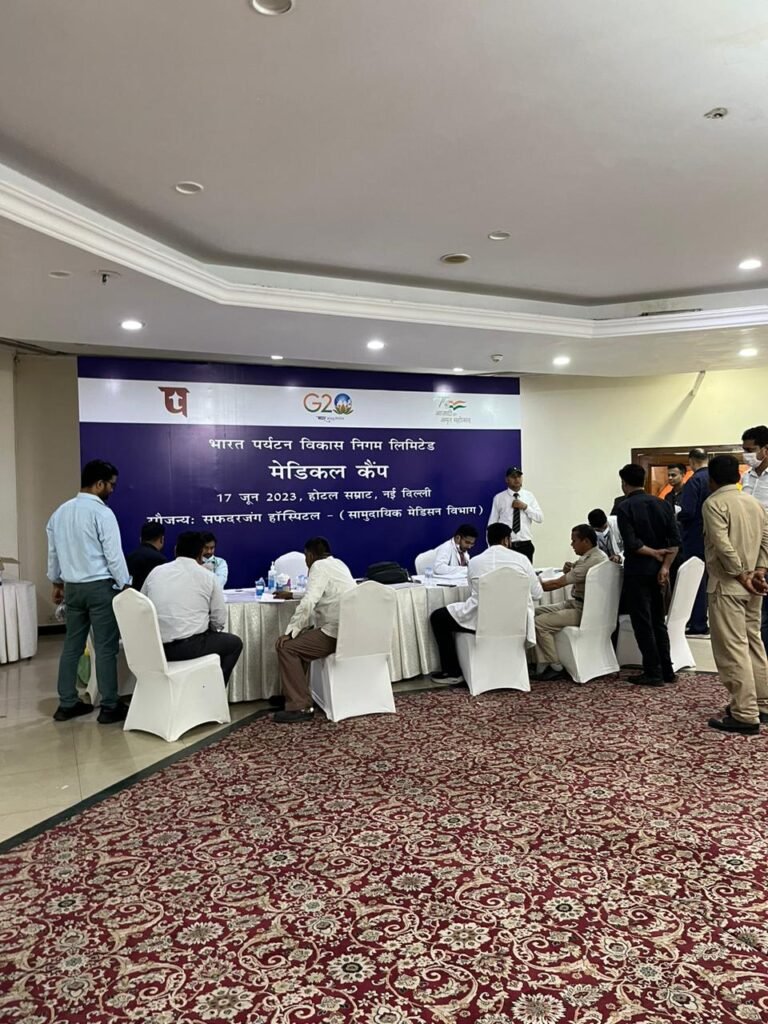 22 June, 2023: ITDC hotels, Ashok and Samrat recently hosted free medical camps. This unique initiative was organized by The India Tourism Development Corporation (ITDC), with the support of All India Institute of Ayurveda (AIIA), Ministry of Ayush and the Safdarjung Hospital, New Delhi. The objective of this initiative was to provide valuable healthcare services for the employees and guests. This also reinforced the commitment of ITDC for the wellbeing of the community and its association with reputed medical institutions.
The medical camps were a part of the Azadi ka Amrit Mahotsav celebration and included many accomplished doctors and para medical staff from The Safdurjung Hospital and the AIIA. During this camp 34 doctors administered consultations, health education sessions and screenings. The doctors included Allopathy experts from Safdurjung Hospital, and Ayurveda specialists from AIIA.
Shri. Piyush Tiwari, Director (Commercial & Marketing), ITDC, while expressing his enthusiasm at this initiative, stated that ITDC remained committed to promoting the wellbeing of the community through initiatives like this, and showed their commitment to serving the community. He went on to add that initiatives like these showed the company's dedication to the welfare of society and also its collaboration with reputed medical institutions.
The venues Ashok and Samrat played a very important role in facilitating these medical camps at their premises. The medical teams were felicitated by ITDC as a mark of their appreciation.
AYUSH health and wellness in line with the objective of promoting India as a premier MVT destination was exemplified through this partnership between ITDC and AIIA.
# ITDC # AYUSH # medical camps #MVT destination #Azadi Ka Amrit Mahotsav # Piyush Tiwari