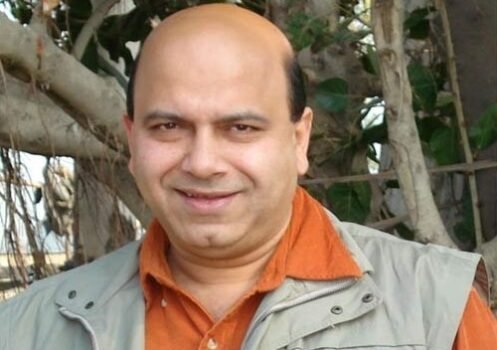 Mr. Vijay Jolly, President of Delhi Study Group
VIJAY JOLLY, who plays the role of Delhi Politician, Globe Trotter, Promoter of People-2-People Relations and Charity Giver, all rolled in one, in a discussion with HARISH CHANDRA
For Vijay Jolly, the effervescent for member of Delhi Assembly, there can never be a dull moment. A former general secretary and president of Delhi University Students Union (DUSU), Jolly found an innovative way to serve the city when founded Delhi Study Group, a non- governmental organization (NGO) working constantly for the cause of justice to the common man in Delhi, the capital of India.
"In 1993, Delhi got legislative assembly after a long struggle. There were leaders on both sides of the political divide, who were unanimous in demand for a legislative body for the people of Delhi. Having got what they wanted, it was important for the citizens to compliment the efforts of the elected representatives by working hand-in-hand with them and monitor the implementation of the plans and policies of the government. Thus in 1994 came into existence Delhi Study Group," says Vijay Jolly.
For Vijay Jolly, who is a prominent business exporter earning that valuable foreign exchange for the nation, it was important to associate people of eminence as active participants in the activities of the Group. "It started with then Chief Minister Madanlal Khurana and then Leader of Opposition in Delhi Assembly Jag Pravesh Chandra, the veteran Congressman attending the inaugural function," recalls Jolly in a tete-e-tete with CSR Times. Among the current active participants are Additional Solicitor General of India Ms Pinky Anand and Young Delhi Member of Indian Parliament Pravesh Verma. The office bearers of the group are prominent members of Delhi society.
The first public program titled Delhi Government: Achievements & Failures, was organized on 26th July 1994. The Chief Speakers were, as mentioned earlier, then Chief Minister of Delhi Madan Lal Khurana and the Leader of Opposition in Delhi Jag Pravesh Chandra. "The program was a grand success. Delhi Study Group had a flying start and since then has been actively working at the ground zero level," adds Jolly.
"The Group is dedicated to the welfare of the citizens and to ensure the betterment of the society. It comprises of people from all walks of life including doctors, engineers, architects, defense personnel, lawyers, educationists, artists, chartered accountants, journalists, diplomats and students. The organization is dedicated to the aim of nation building by generating public awareness through discussions, seminars, exhibitions and developing research papers. It has successfully organized various programs and working papers in the past concerning various civic, national and international issues," says Jolly.
Another area, where the Delhi Study Group has been able to create a niche for itself is supplementing diplomatic relations with people-to-people contacts. Elucidating further on his group's agenda, Jolly says, "Following earthquake in Nepal under our programme– Nepal Help, large consignment of relief material consisting of tents, tarpaulins, blankets, face masks, plastic gloves, cotton gauge, skirts for girls, trousers for boys were handed over to Nepal Ambassador in India Deep Kumar Upadhyay on 6th May 2015 at Nepal Embassy, New Delhi."
Explaining his initiatives in the field of diplomacy, he explains, "To strengthen Afrio-Asian relationships, we had organized a felicitation of the Head of Missions of the African countries in India. In all 39 Head of African Missions that is Ambassadors and High Commissioners attended the function." As convenor of the foreign affairs cell of the BJP, he was instrumental in organizing a very fruitful visit of then BJP president Nitin Gadkari to Israel.
Recently Delhi Study Group delegation visited Cambodia to "Promote People to People Friendship, Understanding & Diplomacy between the citizens of India & Cambodia." The delegation was hosted by the Deputy Prime Minister Dr Sokan and the ruling Cambodia People's Party.
"The international programmes of Delhi Study Group are motivated by the foreign policy initiatives of our Prime Minister Narendra Modi to forge friendly relations with neighbouring countries and the larger agenda to reestablishing India's glory as Vishwaguru," he said.
I LED A CITIZEN'S DELEGATION TO PAKISTAN A FEW YEARS BACK AND ON RETURN INVITED THEIR HIGH COMMISSIONER ABDUL BASIT FOR SEMINAR WHERE WE PRESENTED OUR REPORT
"In this regard, we helped launch India-Nepal Business Forum earlier this year. As prominent Nepali businessman Ajeyaraj Sumargi said at the launch, the idea of the forum is to strengthen the "roti-beti" relationship between the two neighbours, which has stood the test of time," says Jolly.
Delhi Study Group also works on normalizing strained relations with our neighbours by promoting people-to-people contact. "I led a citizen's delegation to Pakistan a few years back and on return invited their High Commissioner Abdul Basit for seminar where we presented our report. Terrorism is against the popular will of friendship and goodwill prevailing among the citizens of both the nations. We have to constantly work to counter the designs of those against peace in the region," says Jolly.
"It's not that we have not kept a track of our original agenda of monitoring Delhi. Last year at the height of administrative logjam in the national Capital we invited prominent citizens to deliberate on the issue. Aam Aadmi party in Delhi led by Arvind Kejriwal came to power in 70 member Delhi assembly with outright win in 67 seats. It had promised smooth and good governance to the citizens of Delhi. But since 14th Feb 2015 Delhi CM has been engaged in a regular war of words with Lt Governor of Delhi.  Around 13 Delhi AAP MLAs have been booked under criminal IPC sections for fake degree scandal, domestic violence against women, corruption, rioting and desecration of holy book to spread communal disharmony. The Principal Secretary to Delhi Govt Rajendra Kumar was booked for corruption. 21 MLAs of AAP face disqualification under the office of profit issue.
Promise of addressing the issue of unauthorized colonies, 500 new schools and wifi public facilities have all been relegated to the background. We cannot let the matter go and have been working to bring these issues into public domain," says Jolly as he gets ready for the day to play the role of Delhi Politician, Globe Trotter, Promoter of People-2-People Relations and Charity Giver, all rolled in one.