16th October, 2023: An announcement of the successful empowerment of 1800 women was made by Dalmia Bharat on International Day of Rural Women the 15th Of October 2023. Dalmia Bharat, is an Indian conglomerate with businesses in the cement and sugar industry. Self Help Groups (SHGs) have been established through which these women are provided essential skill training and access to vital resources that are crucial for sustainable livelihood development. Dalmia Bharat collaborates with various organizations, namely – NRLM, NABARD to name a few, to organize various training initiatives in the farming and non-farming sectors, such as micro enterprise development, handicraft production and others.
These activities cover the communities settled around their regions of operation in 12 states of India. The focus of these initiatives is to upskill the rural women to empower them and diversify their income sources as well as provide them with access to formal credit systems. The access to credit linkages has helped many women build successful micro enterprises, businesses and shops. This has also resulted in a boost in their incomes from 4000 to Rs 10000 monthly, and this has helped improve their individual well being and their ability to support their families.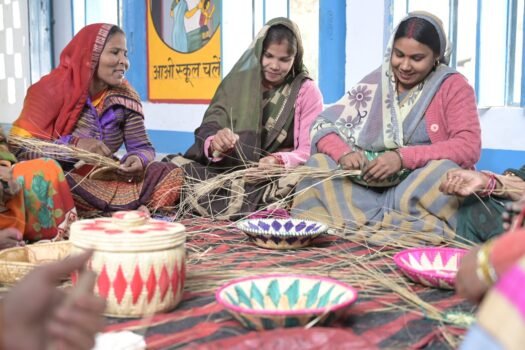 Amongst their other notable programs, one is the upskilling of women artisans from different regions in India. The recently concluded G20 Summit saw eco-friendly handicraft products made of "Moonj" and "Sabai" (types of wild grass) form a part of the gift hampers for the international delegates.
Other focus areas of Dalmia Bharat for sustainable livelihoods is goat rearing, mushroom cultivation, poultry farming, tailoring and many other initiatives. The entrepreneurship training for the SHG women focuses on home-based products like pickles, spices etc.
CEO, Dalmia Bharat Foundation Ashok K. Gupta, said, that these comprehensive programs were created by Dalmia Bharat to help the marginalized women at the grassroot levels and help them secure additional income while carrying out their household duties too. He further added that this commitment of the company to empower rural women is in alignment with the UN Global Sustainable Goals of eradicating poverty, eliminating hunger and advocating gender equality. The empowerment of rural women also helps build an inclusive and sustainable future for India and aids the vision of an Atmanirbhar Bharat
#ruralwomenempowerement#UNGlobalSustainableGoals#eradicatingpoverty #Eliminatinghunger#advocatinggenderequality#AshokKGupta #InternationalDayOf Rural Women