4 November, 2023:In a bid to prioritize healthcare as part of its commitment towards improving lives in the North East, ONGC's multi-speciality, state-of-the-art Siu-Ka-Pha Hospital was inaugurated recently. Shri Hardeep Singh Puri Hon'ble Union Minister of Petroleum and Natural Gas and Minister of Housing and Urban Affairs while speaking at a public function in Sivasagar after inaugurating the hospital mentioned how the Government driven by PM Modi's commitment to improve lives in the North East India, along with public enterprises like ONGC are working jointly towards this objective. He said that this new facility would bring in a substantive improvement in the healthcare capacity of the entire North East India.
Hon'ble Union Minister of State for Petroleum and Natural Gas, Labour and Employment Shri Rameswar Teli, was also present at the inauguration. He said that this hospital was highly advanced and had the latest healthcare services which would benefit the people of that region.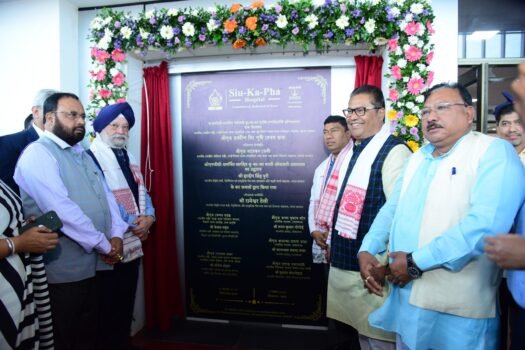 This Multi-Speciality Hospital has been built with a total investment of Rs 483.19 crore, and is expected to provide healthcare facilities to over one lakh patients annually.
Dr. Babasaheb Ambedkar Vaidyakiya Pratisthan (BAVP) will be managing and operating the hospital. The Siu-Ka-Pha Hospital is spread over 35 acres, houses 300 beds and has a team of 70 specialized doctors. A comprehensive range of medical services is offered here including advanced diagnostics, Paediatric & NICU, Orthopaedics, Trauma, Gynaecology, Obstetrics, ENT, Skull base Surgery, Physiotherapy and Rehabilitation. It is also equipped with a critical care unit, modular operating theatres, telemedicine that connects patients with specialist healthcare providers all across the nation.
With the addition of The ONGC Siu-Ka-Pha Multi Specialty Hospital to the healthcare landscape of Assam and its' surrounding regions, the residents no longer need to go to Dibrugarh for medical treatment.
This medical facility apart from serving its primary purpose of providing healthcare, will also stimulate job creation and foster economic opportunities within the region. It is also symbolic of the progress, growth and well-being for the people of Sivasagar.
The ONGC supported Siu-Ka-Pha Multi speciality hospital is also committed to delivering advanced health care services to the underserved socio-economic strata of Assam.
The Chairman and CEO of ONGC – Arun Kumar Singh, along with other senior officials from the Government of Assam and ONGC, namely – Chairman BAVP Trust – Dr Satish Kulkarni, Chairman Siu-Ka-Pha Hospital -Dr Anant Pandhare and CEO, Siu-Ka-Pha Hospital Dr Gautam Das were also present at the inaugural event.
#SiuKaPhaHospital #Government #NorthEastRegion #ONGC #Commitmenttoimprovinglivesinthenortheast  #enhancementofmedicaltreatment #stateoftheartmedicalfacility  #GovernmentofAssam  #ShriNarendraModi  #PrimeMinisterofIndia