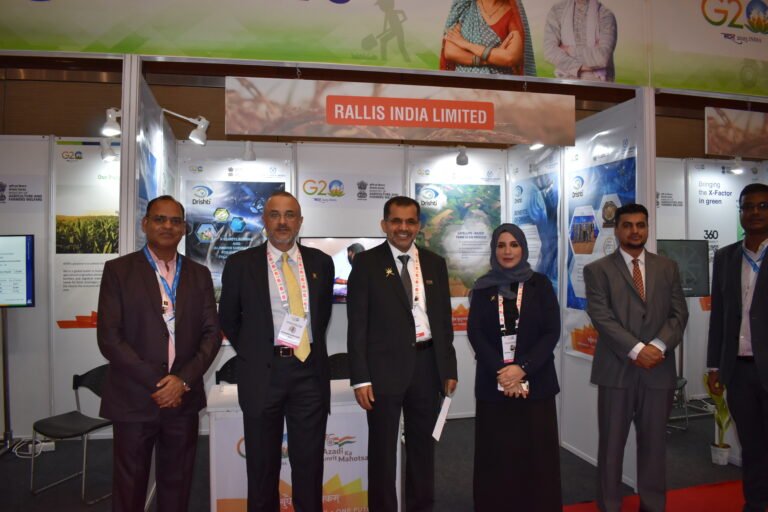 21 June, 2023- At a three-day meeting of the Agriculture Ministers at Hyderabad from June 15th to 17th Rallis India Limited, a subsidiary of Tata Chemicals showcased its state of the art digital agriculture initiative Drishti. Drishti, a flagship digital initiative of the Indian Agri company, was exhibited along with its application for monitoring hybrid seed production farms under the Agriculture Working Group (AWG) of the G-20 countries at the three-day meeting of the Agriculture Ministers.
This flagship digital initiative of the company, is aimed at climate smart agriculture. Rallis co developed Drishti in collaboration with Tata Consultancy Services. Drishti is a path breaking decision intelligence and crop monitoring system that uses AI or artificial intelligence and the power of space borne remote sensing to generate predictive advisories on pest outbreaks, crop conditions, soil moisture and much more.
The Rallis stall at the event saw many visitors including the Honourable Union Minister of Agriculture and Farmers Welfare and President ICAR – Shri Narendra Singh Tomar, Honourable Minister of State, Ministry of Agriculture and Farmers Welfare – Shri Kailash Choudhary, Minister of Agriculture, Fisheries, and Water Resource, Oman – Saoud AL Habsi , Minister of Agriculture, Food Sovereignty and Forests – Francesco Lollobrigida, The FAO Director-General – QU Dongyu,  and Director General, National Institute of Agricultural Extension Management Dr. P. Chandra Shekara, just to name a few prominent personalities.
Sanjiv Lal, MD & CEO, Rallis India, said, that it was time to showcase critical industry relevant solutions in the wake of India's G20 presidency. The best services to farmers can be through the use of AI. He added that the mission of Rallis India was to serve farmers through science. The upcoming risks and opportunities for the hybrid seed production can be spotted by the predictive analytics from this tool, Significant saving
in times and human effort is achieved through the remote identification of problem areas. He mentioned that they had received very good responses and the feedback received at the G20 Agriculture Ministerial Meeting was very encouraging.
# G20 # G20 Agriculture Ministerial Meeting # Rallis India # Tata Chemicals #Tata Consultancy services # predictive analytics # Artificial Intelligence # #Agriculture Ministers # Agriculture Working Group # Drishti # Narendra Singh Tomar # Sanjiv Lal