RYTHM Foundation's Pathbreaking Journey to Empower Maharashtra's Young Women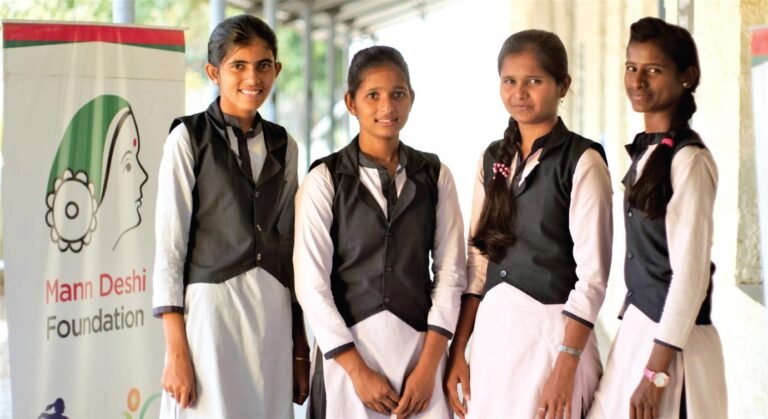 In the aridlandscapes of Maharashtra, where drought prevails, and financial constraints and limited access to quality education weigh heavily on girls and young women, a groundbreaking youth development project backed by RYTHM Foundation is cultivating empowerment like never before. From 2019 to 2022, t h e 'Champions Youth Development' programme, a collaborative effort between RYTHM and Mann Deshi Foundation, emerged as a noteworthy endeavour. This initiative combines education, hands-on learning, personal growth, and athletic training, casting a transformative light on tenacious young individuals. This programme recently clinched a Bronze Award at the prestigious 10th CSR Times Awards 2023, recognising the Foundations' collaboration under t h e ' Women Empowerment, Corporate Foundation Sector' category.
RYTHM Foundation is the social impact arm of the QI Group. At its core, the project offers comprehensive training and support services to foster self-awareness and build confidence. It strongly emphasises achieving academic excellence, maintaining physical fitness, honing personality development, and promoting job creation avenues. The diverse courses include self-defence, storytelling, English fluency, driving skills, and interview readiness. The partnership surpassed just providing opportunities to the beneficiaries; it showcased how collaborative endeavours can profoundly reshape the lives of marginalised girls, turning potential into palpable progress.
Empowerment Amidst Adversity

RYTHM's funding of the programme transcended mere financial support; it helped establish five 'Mann Deshi Champions Centres' in Mhaswad, Dahiwadi, Atpadi, Aundh, and Dighanchi. These centres serve as strongholds of comprehensive assistance to liberate beneficiaries from disparity, inequality, patriarchy, and poverty. True to their purpose, the centres brought significant change to over 800 girls with tangible future opportunities. Of these, more than 30 young women have broken gender barriers, securing jobs in law enforcement. Many others have gained employment in various entry- and middle-level positions across the public and private sectors. "Within socially and economically marginalised communities, where gender disparities intersect with restricted prospects, our partnership with Mann Deshi took shape with an audacious mission. We set out to break down the obstacles rural girls face due to inadequate education and pressing social challenges such as early marriages," says the Head of RYTHM Foundation, Santhi Periasamy.
"This initiative is not merely a project. It's a catalyst for change, nurturing self-reliance and igniting a brighter future for these young women. We could not be prouder of their and our partnership's accomplishments," Santhi adds.
Catalysing Remarkable Transformations
With RYTHM 's support, the programme facilitated impressive short-term shifts, propelling participants toward academic and athletic excellence. The academic facet encompassed coaching in practical knowledge retention and exam strategies. Similarly, the athletic aspect drove participants to significant triumphs in state and national competitions, such as the 100m sprint, 800m run, and shot-put. This underscored the influential role of sports as a catalyst for transformative change. The programme transcends the fundamentals in several ways. It involves hands-on cultural and historical excursions, enhancing participants' grasp of their shared heritage, history, and artistic accomplishments. Moreover, they are brought up to speed with the latest strides in science and technology, fostering a keen interest in pursuing fulfilling careers in these rapidly evolving domains. The initiative also encompasses personality assessments, aiding participants in making reasonable choices, defining goals, and honing their leadership abilities. Expert talks further enrich their knowledge base, expanding their perspectives and motivating them to explore new avenues for personal development.
Over time, RYTHM and Mann Deshi's guidance strives to provide participants with the means to unshackle themselves from poverty and gender disparity. This empowers them to stride confidently into a future abundant with prospects, actively contributing to the progress of their families and communities. "The collaboration between RYTHM and Mann Deshi signified a comprehensive effort to initiate transformative change . B y understanding and acknowledging the complex interplay between limited opportunities, gender inequalities, and social issues like teen marriages, our joint effort exemplified a holistic approach beyond mere interventions," Santhi explains. "It endeavoured to create a ripple effect that not only empowered individuals but uplifted entire communities by challenging deeprooted norms and creating an environment conducive to sustainable development," she adds. RYTHM Foundation works with grassroot organisations in underserved communities in India, Sri Lanka, Southeast Asia, and the Sub-Saharan African region on projects that support education, empowerment, and environment preservation.
Its efforts to help underserved communities mirror several United Nations' Sustainable Development Goals (SDGs). RYTHM has made considerable strides in ensuring Education for All (SDG 4), encouraging Gender Equality (SDG 5), safeguarding Clean Water and Sanitation (SDG 6), providing access to Affordable and Clean Energy (SDG7), promoting Decent Work and Economic Growth (SDG 8), helping Reduce Inequalities (SDG 10), and strengthening Partnerships for the Goals (SDG 17). The Foundation has collaborated with more than 135 partners since 2005 to execute over 75 transformative projects benefiting over 80,000 people.