14 July, 2023:Safex Chemicals, a fast growing agrochemical company, with a 35%+ revenue CAGR over the past 5 years is redefining the sustainable change landscape in India and the UK with its CSR initiatives.  Transformative projects focused on Holistic Education, Basic Amenities and Sports, setting new standards are being spearheaded by Safex Chemicals in a bid to endorse its unwavering commitment to making a positive impact.
The aim of this initiative in India is manifold. It will not only provide education but also improve infrastructure, and provide basic amenities like safe drinking water, sports and more.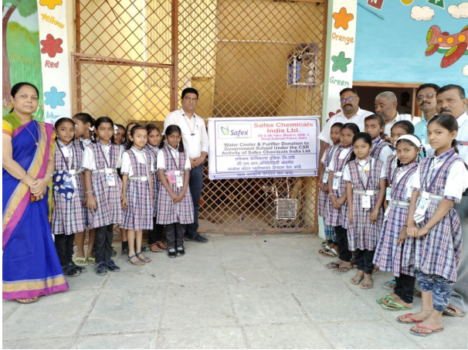 This is the first phase of CSR initiatives that have been started with the government schools and colleges in New Delhi and Maharashtra. The barriers to necessary care are posed by heavy concentration of resources in urban areas coupled with the lack of public health infrastructure and an increased stigma in the rural areas.
In the UK Safex Chemicals has innovative programs that are aimed at nurturing a passion for learning and igniting curiosity. The company is providing great inspiration for the next generation of innovators, scientists and artists, through captivating STEM, an approach to learning and development. This approach to learning and development integrates the areas of technology, engineering, mathematics and science.
Group Director of Safex Chemicals, Piyush Jindal commented, that the company believed that real change could only be achieved through sustainable efforts that empower communities. He mentioned that their CSR initiatives were designed in such a way that they created a lasting positive impact, by breaking barriers and addressing systemic challenges.
He added that by leveraging their resources and expertise they were committed to building a brighter future for the individuals as well as the communities, by driving meaningful change that will live on for the coming generations.
#PiyushJindal #SafexChemicals #STEM #Agrochemicalcompany #sustainablelandscape