2 September, 2023 : SPARSH Foundation founded in 2007, a charitable wing of SPARSH Hospitals, conducts multiple social initiatives with the aim of helping the underprivileged.  An initiative launched in 2010 – Guru Namana, identifies retired teachers residing in rural areas and offers them free joint replacement surgeries.  Nearly 800+ teachers have benefitted from this initiative till date ever since the inception of this initiative. Under the Guru Namana program, a 100 percent success rate is achieved in joint replacement surgeries for eligible retired teachers. Screening camps were conducted in Bangalore, Gulbarga and Raichur for the same.
This surgery is offered to retired teachers, who cannot afford these high-end treatments like joint replacements due to their low remuneration. SPARSH Guru-Namana recognizes the profound impact of teachers on an individual's life and expressed their gratitude through this initiative. Teacher's Day observed every year on the 5th of September sees a celebration of this initiative.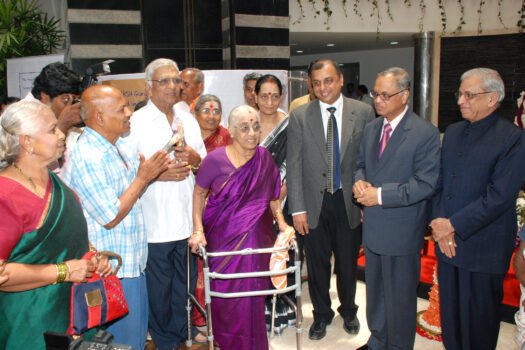 The most common type of Osteoarthritis (OA) is a leading cause of chronic disability in most of the countries worldwide.  Worldwide estimates reveal that 60% of those aged 65 years suffer from symptomatic osteoarthritis. The data from India shows 18 crore people in India suffering from osteoarthritis with an increase of 20 percent in knee replacements performed each year.
The Guru Namana program sees SPARSH Foundation providing all the requisite infrastructure and logistics that are needed including wards and operation theatres. A team of operating surgeons, paramedical staff, operating surgeons, physiotherapists, nursing staff, occupational therapists, dieticians, all operating under SPARSH hospital offer their services completely free of charge and it includes a comprehensive post operative care too.
Chairman and Chief Orthopaedic Surgeon, Dr. Sharan Patil, SPARSH Hospital said that they appreciate the role of teachers as it is pivotal in shaping the future of society. This program was their way of paying tribute to these unsung heroes.
The vision of Guru Namana is to build a community of teachers who have access to good healthcare at affordable costs. This would be coupled with the finest clinical skills and world-class cutting-edge technology needed to solve the most complex healthcare problems, and increasing its accessibility and affordability for teachers.
#GuruNamana#SPARSHFoundation#retiredteachers#jointreplacement #Osteoarthritis #Kneereplacement #DrSharanPatil