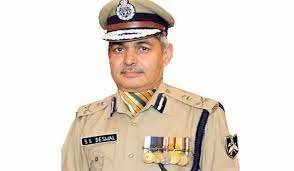 Surjeet Singh Deswal, Director-General of Indo- Tibetan Border Police Force (ITBP)
Surjeet Singh Deswal took over as the Director-General of Indo- Tibetan Border Police Force (ITBP) in October 2018. In an exclusive interview with CSR Times he reflected his thoughts and ideas and how ITBP comes across as one unified unit to meet any challenges. Excerpts of the interview:
CSR TIMES: How does ITBP help pilgrims during the Amarnath yatra?
Surjeet Singh Deswal (DG): This year ITBP has deployed 44 companies of soldiers in the Amarnath yatra to provide safety and security to the pilgrims. Pilgrims from different age groups ranging from 16 to 75 join the yatra, who are often not familiar with the terrain conditions and due to high altitude at 13,500 feet may also face difficulty in breathing. We render all kinds of help from safety and security to medical assistance during the yatra. It is a daunting task for our personnel but they are fully trained to meet these challenges.
CSR TIMES: What role do you play in the Kailash Mansarovar yatra?
DG: Our core duties remain the same. But Kailash Mansarovar yatra is for longer duration of about 20-25 days, therefore the attention time is longer. Moreover, yatris to Kailash Mansarovar take two separate routes, one from the traditional Lipulekh Pass in Uttarakhand and the other through new route of Nathu La Pass, Sikkim, and this has added additional responsibility on ITBP. Some 18 batches of 60 pilgrims take the Uttarakhand route and another 12 batches take the Nathu La Pass route. We provide all kinds of help and assistance that a yatri needs in normal or emergency situations.
CSR TIMES: What kind of training do you impart to your soldiers and officers?
DG: As compared to training for other paramilitary forces, training for ITBP personnel is quite different. The forces are to be familiarised in mountain terrain and climatic conditions of the region they would be deployed in future. They serve the country in high altitudes ranging from 9,000 feet to 19,000 feet and in icy climatic conditions where it is difficult even to breath. It takes a heavy toll on their body but with proper training they are moulded to face any challenges. They are generally posted in these inhospitable conditions for short spells of time and are replaced by the next group. They are self-motivated and serve the country with unwavering dedication ready to face any hardship while on duty.
CSR TIMES: Do you assign any other duties to your force? Don't you send them on normal security duties to other parts of the country, say in plains?
DG: ITBP jawans take up duties in other states, for example our forces were deployed in Chhattisgarh which is the hotbed of Naxalites. Our personnel have brought honours to our wing because of their service there. We have also provided security duties in Jammu region during the general elections. So it's a mix of all duties which we don't choose. We go wherever we are required.
CSR TIMES: Recently, some foreign tourists lost their lives in the Pithoragarh district of Uttarakhand while trekking on the Nanda Devi mountain range. It was reported that ITBP personnel had swung into swift action and saved many lives and recovered bodies from more than 1,000 feet deep gorge. What are your comments?
DG: It was one of the difficult missions for our troops in the said incident. When our unit in Pithoragarh came to know about the incident, they immediately rushed to the spot but before they arrived the foreign tourists went down the hills and died on the spot. It was not easy to recover the bodies. We deployed a helicopter to land in the deep gorge but due to high winds and inhospitable conditions, the helicopter could not reach the spot. However, our troops reached the place on foot and recovered the bodies and handed them over to the authorities for further action. As far as the other four surviving members of the team were concerned they were moved to a safe place and later allowed to go to Delhi. It was one of the best executed humanitarian missions. We carry out countless missions wherein many people are provided help and support.
CSR TIMES: In case of unfortunate demise of personnel on duty what kind of rehabilitation and relief your Department provides to the bereaved family members?
DG: We are very fortunate to have one of the best relief and rehabilitation support among paramilitary forces in the country. The Government and Himveer Wives Welfare Association (HWWA), an NGO run by ITBP personnel, provide ex-gracia financial benefits to the family members. There is a robust system and the members of the family get help in due course depending on the requirements. The family gets full pension benefits throughout the service period. All ITBP personnel contribute to HWWA which looks after our needs in such conditions. The NGO provides counselling to the widows or children and guide them how to lead a decent and dignified life. Children are provided quality education and to meet our needs, ITBP has opened a school in Dwarka, New Delhi, where, children can join and complete their studies. We provide vocational training to the widows or any family member and try to absorb them in suitable jobs. Children are given proper guidance on education, career and what they need at that point in time.
CSR TIMES: Do you receive any support financial or of other kind from the civil society or corporate entities under CSR programmes?
DG: We have a robust self-content system within our office framework. The support from government and HWWA is quite adequate to meet our needs— immediate and long-term. We do not get significant help from any private entities under the CSR initiative; moreover we do not seek support from them.
CSR TIMES: Your troops are deployed in high altitude regions where normal medical help for the common inhabitants is hard to come by. They do not have access to basic facilities. Do you help people in the hour of crisis?
DG: This is an important question and I am pleased to respond as follows. We are the first responders in such situations and there is no way a common man can get help from civil administration. We provide medical help or first aid immediately and if the situation requires shifting the patient from the remote place to a nearby town or city our troops help them with as much dedication as it deserves on humanitarian grounds. We provide veterinary care to the animals in those remote hill regions. Cattle are true wealth to people and they make a living on them. To look after them during disease is important and our vets do voluntary service to the people in these areas.
CSR TIMES: You come across tourists from different backgrounds, including from foreign countries. What do you feel when you interact with them?
DG: India is a true heaven in the world with beautiful mountains, climates, valleys, gorges, rivers, flora and fauna. No other country has been endowed with so much of diversity. Therefore, we must inform and encourage tourism in a big way. That is our mission in our careers.