30 May, 2023: UN GCNI along with its partner SIDART organized a Multi-Stakeholders Workshop on Collective Action Uniting Together –Addressing Healthcare Challenges through Ethical Business Practices and Collective Action "A Multi-stakeholder perspective on transparent and ethical Healthcare ecosystem" on Tuesday, May 30, 2023, at State Institute of Health & Family Welfare (SIHFW), Jaipur, Rajasthan.
The thematic area of discussion was mainly around the Collective Action for strengthening the Healthcare Ecosystem in India. The workshop witnessed the presence of some noted dignitaries across the diverse sectors of society. Experts and leaders from WHO, National and international institutions, renowned hospitals, bureaucracy, and policy advocacy shared their strategies related to transparency, accountability, good governance practices, proactive implementation, and grievance redressal mechanisms.
The workshop discussed the importance of stakeholders' involvement in fighting healthcare challenges /corruption, the Responsibility of multi-stakeholders in promoting transparency, governance, and accountability in healthcare, the sharing of good practices and innovative approaches, and the prudent role of Compliance as an Anti -Corruption Measure in Healthcare Sector.
The workshop moved ahead and the decision was taken as ..
Mr. Ratnesh, Executive Director, UN GCNI
He said, " Before we move to have an insightful discussion on the Areas of concern in the healthcare ecosystem and the Impact of Collective Action to fight corruption in the healthcare system in India, on  behalf of UN Global Compact Network India (UNGCNI) and SIDART, I, warmly welcome you all the renowned experts to this wonderful Multi-Stakeholders Workshop on Collective Action.  We are so grateful for your precious time and presence at the workshop and I am sure, we will be enlightened with your knowledge, thoughts, and guidance to bring and ensure transparency, ethical practices, and accountability in the Healthcare Sector in India.
My heartfelt gratitude to Dr. Pramila Sanjaya, Hon Advisor, SIDART and Focal Point of UNGCNI for Rajasthan, and her entire team for supporting UNGCNI in designing and organizing this workshop with such distinguished experts from health, law, and Anti-corruption sectors".
Justice GS Hora, Chairperson Transparency International -India (TII), Rajasthan Chapter and Guest of Honour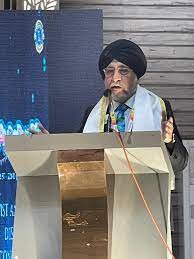 Giving an overview of TII, he says, based in Berlin its nonprofit and non-governmental purpose is to take action to combat global corruption with civil societal anti-corruption measures and to prevent criminal activities arising from corruption. Its most notable publications include the Global Corruption Barometer and the Corruption Perceptions Index. Transparency International serves as an umbrella organization. From 1993 to today, its membership has grown from a few individuals to more than 100 national chapters, which engage in fighting perceived corruption in their home countries.
In addition, he says, unethical business practices, non-transparency, or corruption a major impediment to development, peace, and security "From health to employment, education to the environment, business to sports, gender equality to access to justice, and more – it undermines all areas of society's development" etc. Therefore, there is a need for all sectors to come together with collective action to improve practices, transparency, and accountability in the healthcare sector in India. 
He congratulated UN GCNI especially Dr. Somnath Singh for taking this initiative to fight corruption and strengthen the healthcare sector through collective action. He expressed his gratitude to UNGC, NY, and Siemens Integrity Initiative (SII) for their support and guidance in running the Anti-Corruption Initiative through UN GCNI to improve and make corruption-free free the healthcare sector in India.   
 Dr. Somnath, Deputy Director & Health Anti-Corruption, Health, ESG and Sustainability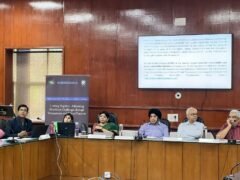 Prior to discussing the rationale and need for collective action for strengthening the Healthcare Eco-system in India, I would like to share the objectives and the outcomes of the collective action workshop…
Further, Dr. Somnath emphasized on apprising the participants that Indian healthcare is growing at a brisk pace. A huge number of the population in India as well as around the world, lacks access to quality health care services. Corruption in the healthcare sector has been found to take many forms in various areas, such as in health facility construction; equipment and supply purchasing (Procurement); pharmaceutical distribution and use (Price transparency and Service Delivery); health worker engagement; falsification of medical research, lack of political will and unwanted involvement of decision makers. The effects of corruption on a population's health may not always be clear and direct, but they are present in the system which negatively affects the health of a community or nation in multiple ways. Collective Action is born out of companies' need to foster more ethical, transparent, and less corrupt business environments while mitigating potential business risks.
Collective Action can complement, enhance, and further develop current and future laws and regulations. Businesses and societies face complex corruption challenges on a daily basis, and Collective Action is a key approach to slowing the scale of corruption issues.
Dr. Pramila Sanjaya, Founding member & Hon' Advisor, SIDART and Focal person UN GCNI
 She gives out rationale for why we need collective action to improve and strengthen the healthcare ecosystem in India. 
The healthcare providers which include pharmaceutical distributors, practitioners, and its supply-chain eco-system constitute a healthcare industry. Any lapse in the ethics and integrity of the organization or its supply-chain partners may have severe consequences on the quality of service as well as the satisfaction and well-being of the people. She emphasized and shared that lack of transparency & accountability which leads to corruption undermines health by limiting equitable access to healthcare services and financial protection.
 Ms. Seerat Tajamul, Membership and Networking Officer, UN GCNI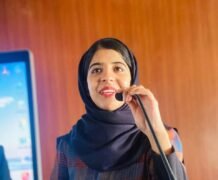 She says multi-stakeholder partnerships are indispensable in order to effectively tackle and solve the perennial sustainable development problems outlined in SDG 17. The evolution of Collective Action is also the overall evolution from Compliance to Integrity. It is not only about individually avoiding and mitigating the risks, pitfalls, and likely costs of corruption such as legal or financial, but above all seizing the opportunities and associated benefits of a robust culture of integrity that is fostered and implemented collectively by a committed group of like-minded stakeholders. Aggregated health decisions by individuals are of paramount importance to public health professionals and policymakers, especially in situations where collective participation is a prerequisite for achieving an important public health goal such as herd immunity. In such circumstances, concerted action often falls short of the common good through lack of sufficient participation.
After that, she delivered a vote of thanks to all the eminent speakers and participants and also encouraged them to join UN GCNI as its valuable members and contribute to achieving Agenda 2030.   
Other Eminent Speakers.
Dr. Rajendra Bhanawat, retired IAS, Pramod Kumar Tiwari, IPS, anti-corruption -India, Sanjay Pandey, lead advisor, global health advocacy incubator, Dr. Sandeep Jain, SNS Medical College, Dr. Nupur Hooja, senior prof, SMS Medical College, Dr. Meeta Singh, a doctor, a soldier, and a humanitarian works for equality, empowerment, and dignity of humanity, especially for the marginalized and disadvantaged sections of society, Ashutosh Kumar Mishra, consultant to Partnership for Transparency Fund (PTF) – a Washington/NY-based think-tank, Dr. Nalin Josh, MD, FCCP (USP), Director and head, dept of respiratory, NIMS, Medical College, Mukesh Mishra, CEO, Jaipur Marathon, CO-Founder,  world health and Wellness Fest, and Jaipur Runners, Dr. Mamta Chauhan, Associate Professor , state institute of health and family welfare Rajasthan, Dr. varsha Tanu, associate professor, the Indian Institute of health management research (IIMHR), Dr. Anshu Jain, Dy Medical superintendent, Narayana Multispecialty Hospital Jaipur, Dr. Arpita Jindal, MD (HoD) pathology, faculty tumor Board, SMS Medical College & hospital, Richa Chhabra, consultant, earnest and young, public health professional, govt of India, Mukesh Vyas, principal consultant, Infosys and chairperson, ISTD, Jaipur chapter, Gokul Chand Verma, consultant- public health and nutrition, CSR Project, Dr. shachi Adesh, heads, Rajasthan state office for Mamta health institute for mother and child (a national Health NGO), Dr. Anshu S.S. kotia, Associate Professor, Anaesthesia, SRC, Jaipur, Dr. Adesh Chatruvadi consultant, Praveer Goyal, Assistant Director, MAMTA- Health institute for Mother & child, jaipur, Dr. Subhash Chandra Godara, Technical support in designing & developing the situation analysis, and implementation plan for the PMJAY  health & wellness centre across the state along with national free drug & diagnostic scheme, Dr. Sonia Singh, psychologist, specializing in the health domain with a strong focus on mental health, government programmes. 
The workshop brought out the significance of fostering meaningful dialogues and partnerships and the perennial need for SDG 17 (Partnerships for the Goals) along with SDG 3 (Good Health and Well-being). Deliberations were carried out on the ecosystem approach involving potential stakeholders in the healthcare sector such as pharmaceutical distributors, Health Professionals, Government bodies, Businesses, Civil society organizations, and academia/Research Institutes to help strengthen/ scale up collective action against corruption in the healthcare ecosystem in India.