5th September, 2023: Vision Foundation of India (VFI), India, founded in 1993 by Dr. Kulin Kothari is an NGO working with the aim of providing affordable medical aid and accessible eye care to those in need. A specially curated event "Let's Empower "was successfully concluded on the 4th of September.
This event marked VFI's commitment to empowering the lives of the visually challenged. With an innovative appeal, the"Let's Empower'' includes the visually challenged. This program enables confidence building and empowers those seeking medical aid. The process of transforming lives includes bolstering self confidence and enhancing the skillsets among individuals suffering from visual impairments.
Motivational speaker, Avinash Ananda conducted a 1.5 hour session during the event.
Dr. Kulin Kothari, Founder, VFI, speaking at the event said, that they believed that every human being had the right to sight, happiness and self-esteem. The "Let's Empower "mission he said not only provided access to medical aid for the visually challenged, but also provided them with the necessary tools that are needed for thriving on their professional and personal lives.
Mr. Mangal Prabhat Lodha graced the event as Chief Guest, and his support highlighted the importance of collective efforts to jointly promote empowerment and inclusivity.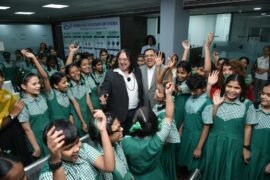 Mr. Mangal Prabhat Lodha, said that Dr Kulin Kothari was empathetic and displayed a deep understanding of the suffering of others, and ever willing to extend a helpful hand to those in need. This event he said was more a self-revelation of one's inner strength because of God deprives us of something he inevitably gives us something better.
Since its' inception, Vision Foundation of India has been providing hope to those in need of eye care. VFI has provided free eye checkups and surgeries to needy individuals across the nation, with the use of state-of-the-art facilities and the use of advanced medical instruments.
VFI is on a mission to eradicate preventable blindness in India, and has expanded to rural areas, where it is conducting many free eye camps and surgeries. The foundation's mission resonates with the belief of Mahatma Gandhi that the heart of India lies in its villages. 
# DrKulinKothari # MangalPrabhatLodha #preventable blindness #VFI #NGO #VisionFoundationofIndia #Let'sEmpower #eracdicationof preventableblindnessinindia