Wishes and Blessings collaborates with Asmita Theatre Group's Nukkad Natak to raiseits voice against elder abuse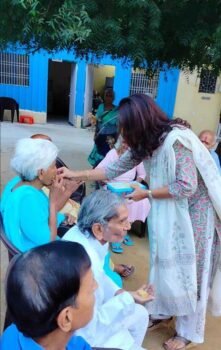 On the occasion of World Elder Abuse Awareness Day recently, Wis h e s a n d B l e s s i n g s collaborated with the Asmita Theatre Group for a heart wrenching Nukkad Natak at Connaught Place (CP ) Delhi. The objective of the Nukkad Natak was to create an awareness about elder abuse and in stil respect and dignity for them in their twilight phase. Wishes and Blessings is a non-profit organisation working for the underprivileged and marginalized community with a view to improving their lives. Asmita Theatre Group puts up plays and performances to address social issues and promote social change. The Nukkad Natak was a 30-minutelong portrayal of the sorrows and pangs that senior citizens face on account of the negligent behaviour of their society and family. It was scripted with the objective of correcting the audience perception towards the elderly within their own families and outside too. The thought provoking plots and meaningful dialogues held the attention of the audience. 
The street theatre was a powerful medium of emphasizing the importance of empathy, respect, reporting incidents against elder abuse and providing support to the victims. Dr. Geetanjali Chopra, Founder and President of Wishes and Blessing said that she believed in the importance of theatre and art to create awareness and inspire social change. She further elaborated saying that the Nukkad Natak was aimed at educating the public about the existence of elder abuse and empowering the victims to take timely action. She outlined their goal by mentioning that they wanted to create a society that values the contributions of its elders. In April 2018 Dr. Geetanjali Chopra had set up the first old age home in Delhi by Wishes and Blessings through its' Mann Ka Tilak initiative. More old age homes had been added post this in Delhi and Vrindavan. These private and charitable old age homes offer a new lease of life to abandoned and old women.
Mr. Arvind Gaur spokesperson of Asmita Theatre Group said that through their collaborations and artistic endeavours they try to highlight the critical issue of elder abuse. This year's theme was "Closing the circle: Addressing Gender Based Violence (GBV) in Older Age Policy, Law and Evidence." He went on to add that there was an urgent need to implement legal frameworks, implement effective policies, and have evidence based interventions to counter the gender based violence that was experienced by older individuals. He supported the collaboration with Wishes and Blessings and said it was needed to protect and empower the elders. The well attended event saw participation from influencers, social activists amongst others. This initiative was hailed by all present as an effective medium of communication with the message of uniting to support the older adults. # Nukkad Natak # Wishes and Blessings # Elder Abuse # World Elder Abuse Awareness Day #Asmita Theatre Group # Arvind Gaur # Dr Geetanjali Chopra # Mann Ka Tilak # Old Age home