News Update/Press release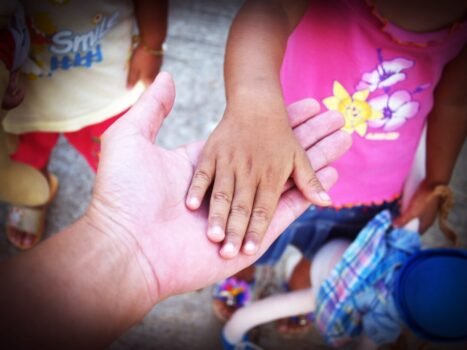 A partnership that will help mitigate Childhood blindness
New Delhi, October 4, 2021: Vitamin Angels India has tied up with Give-India for 'Daan Utsav 2021' to raise Rs. 50 lakhs to provide 2 doses of Vitamin A to 1 lakh children for a year. Through this partnership, Vitamin Angels will work towards helping mitigate childhood blindness that affects millions of children in India every year. In over a decade of its operations in India, Vitamin Angels has been helping reduce childhood blindness, malnutrition and child mortality by providing life-changing vitamin A tablets to children in far flung and remote areas and communities across the country.
Vitamin A Deficiency (VAD) is recognized as a serious global public health challenge across all underserved populations. While historically many public health interventions have succeeded in reaching almost 70% of the population, gaps in service coverage remain largest in low- and middle-income countries. In India millions of people living in hard-to-reach areas, urban slums or migrating seasonally, remain unreached with essential health and nutrition services. Among them the most affected continue to be children. Not only does VAD increase the chances of childhood blindness, it also significantly diminishes the ability of children to fight common childhood infections, often leading to mortality. Vitamin Angels fills that gap by reaching out to children in hard-to-reach' communities and unreached by public health system to provide them with vitamin A supplementation with the help of program partners and governments across the country. But childhood blindness is preventable through simple and proven interventions. All it takes is a simple inexpensive and proven intervention – one high-dose vitamin A capsule, given twice a year to children 6-59 months of age.
According to Sunish Jauhari, President, Vitamin Angels, India, "Access to nutrition and healthcare is compromised for vulnerable populations across many countries leading to complex public health challenges. Insufficient dietary intake of Vitamin A is a predominant cause of childhood blindness in India. While Mission Poshan 2.0 launched recently by the Government of India aims to develop practices that will accelerate health, wellness and immunity of children and pregnant women, the role of community-based organizations (CBOs or NGOs) is often vital to bridge gaps in health and nutrition programming through Evidence Based Nutrition Interventions (EBNIs) by working in collaboration with local governments. We are very happy to partner with Give India during 'Daan Utsav' to raise Rs.  50, 00,000 to prevent childhood blindness by providing Vitamin A tablets for children in far flung and remote areas of the country. We hope that people will step forward and donate to curb a disease that affects 250,000 to 500,000 children per year, globally."
According to Atul Satija, Founder 2.0 and CEO, GiveIndia, "Every 'Daan Utsav', we aim to generate awareness and raise money to combat challenges that tend to go unnoticed. We are proud to partner with Vitamin Angels and enable them raise funds through our networks of HNIs, corporates, foundations and everyday givers to prevent childhood blindness in India. Since last year, we have diversified our fundraising initiatives to draw attention to issues associated but not restricted to COVID-19. We hope that through 'Daan Utsav' Vitamin Angels will be able to raise their target funds and generate awareness on how micronutrients play a crucial role in the nutritional outcome of children and pregnant mothers across the globe."
'Daan Utsav' or the 'Joy of Giving Week', a festival of philanthropy, is an effort to create awareness, volunteering and fundraising events. Through this partnership, Vitamin Angels India aims to raise a corpus of funds that will help them fight against childhood blindness as well as other nutritional challenges plaguing pregnant women and children under-five in India.