News Update/Press Release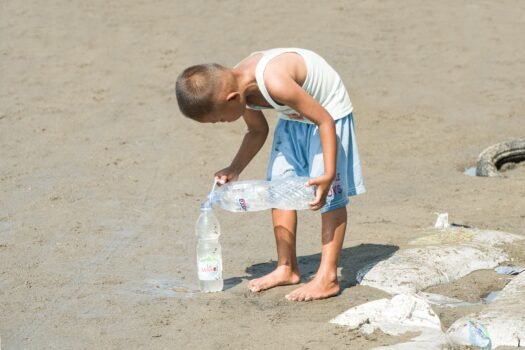 Awareness drive regarding right methods of disposing used plastic through Children
12th November 2021, Mumbai:  Bottles for Change has conducted a campaign to inculcate the habit of used plastic recycling and source segregation across various slums in the city. It pledges to reach more than 20 slums to educate and to spread awareness about the right methods of disposing used plastic. The issue of pollution, climate change and its larger impact on sustainability is a concern that is being addressed at various levels. Bisleri has always believed that awareness begins at a young age. Through this initiative, the company aims to educate the younger generation about the importance of source segregation of used plastic and keeping it clean and dry after use.
As of 2019 report by the Central Pollution Control Board, about 660,787.85 tonnes of plastic waste is produced in India annually, of which around 60% is reportedly recycled. Nearly 43% of the packaging material is made from single use plastic. Waste management is one of the greatest environmental challenge faced urban slums, which continues to overwhelm citizens and local authorities. In an effort to tackle this situation, Bisleri's Bottles For Change works tirelessly to create a cleaner, greener, and a sustainable environment by creating awareness on source segregation and recycling of used plastic.
As a part of this pilot, Bisleri conducted special awareness sessions for the residents in nine different slums across Mumbai, Navi Mumbai and Thane. The initiative witnessed participation from over 300 families, reaching out to more than 150 children. A total of more than 200 kilos of hard and soft plastic materials (like wrappers, containers, packing materials etc.) were collected from this drive. The enthusiastic championing by the children encouraged Bottles For Change to take it up as a continuous activity and scale it up to more than 20 slums.  Since plastic is a recyclable resource, every stakeholder involved in the used plastic management will get a value like one gets it for old newspaper. This value can be given to the local self- help groups and they in turn utilize the same for welfare activities of slum children. To achieve this, source segregation of used plastic in clean and dry form is very crucial. The larger objective is to establish this value chain for used plastic in circular economy.
Speaking about this impactful initiative, Ms. Anjana Ghosh, Director – corporate social responsibility, Bottles for Change., said, "In order to create a positive change in the environment, our Bottles for Change initiative is attempting to spread awareness about plastic usage and disposal in a number of innovative ways since the past couple of years. This Children's Day, we decided to connect with the slums of Mumbai to cultivate a habit of proper segregation and recycling at source among kids, adults and champions of the community. We firmly believe in our efforts to bring forth a positive change for the future generations to come."
Plastic is perceived by many as a threat to the environment. However, if used and disposed responsibly, it can help to achieve sustainability goals. A crucial step in this direction is to clean the plastic after its use, segregate it separately and send it for recycling. This small but significant step has tremendous potential. If India is able to manage plastic waste better, the country has an opportunity to recycle 100% of its plastic produced and conserve the environment for generations to come.