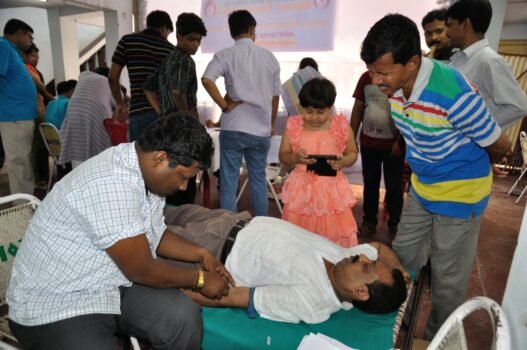 Blood donation for a beneficial cause
Gurgaon: IRRAH (A CSR Initiative of Realistic Realtors & Reach Group) organized "Blood Donation and Health Checkup Camp" on Wednesday, 17th Nov 2021 at Time Tower, M.G. Road, Gurugram from 10:00 AM to 5:00 PM. More than 300 participants volunteered to support the cause.
Blood donation is the best donation one can give to another human being. The pandemic has affected blood donation drives, which has further resulted in reduced stocks of blood and its components. So, every individual must come forward and donate blood. IRRAH has been organizing Blood Donation and Free Health Checkup Camps for over 5 years.  The motto of IRRAH, 'Sunshine for Winners' is the central idea behind all its projects, empowering those in need in a meaningful way.
Reach Pro Group, Chairman, Mr. Harinder Singh Hora said, "it is our responsibility to donate blood and save lives. Every year, we host a blood donation camp at which a large number of people volunteer to donate blood. We're thrilled with the response we've had from people this year as well. We are grateful to everyone who donated blood on this occasion. I urge everyone to donate blood to save precious lives."
Based in Gurugram, Reach Pro Group has a team of 50+ professionals who are experts in architectural designs, quality construction & timely delivery. The group has several real estate projects embellishing the key sites in Gurugram, like AIRIA by Reach and Lake Shore, Reach Commercial, reach 3 Roads and Reach My Towers.