Bridging the digital divide through CSR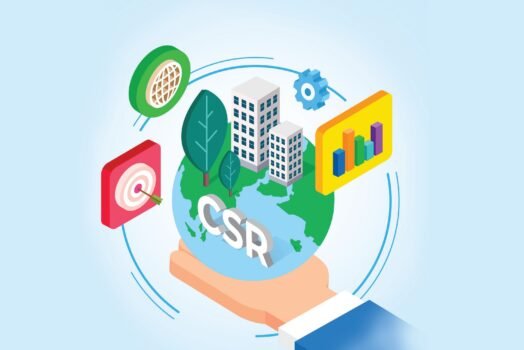 A key area of CSR focus has as a byproduct of the COVID[1]19 pandemic and the various lockdowns imposed, shifted to bridging the huge gap between financial literacy and digital inclusion. Among the basic human necessities and rights, access to the internet has etched a strong, popular and high[1]ranking place. The internet domain is no longer a luxury that permits access to a select few, but a necessity available to the masses. An explosive growth has been marked in the use of the internet, yet much more needs to be accomplished. A host of CSR programmes and collaborations have been initiated to cater to this need. The American Tower Corporation (ATC) India has launched 200 digital communities all across India through the ATC CSR Foundation, its CSR wing. People of all ages gather in digital communities for internet access. The digital communities cater to the local needs and provide essential services like healthcare, education, career and financial development services, relying on connectivity to boost the quality of life.
The key components of digital empowerment are strong and affordable internet and broadband services, devices that can access the internet and suffice the user needs, provide access to IT training, provide quality technical support when needed and provide the users with independent use of online platforms and encourage usage through online content. ATC CSRFI has opened 15 ATC STEM labs in the Government schools of Bihar. This creation of digital communities provides easier and greater access to communication technology and information (ICT) in remote areas with limited access to internet. It has also launched Digital Learning Centres with Self learning kiosks and career development centres all across the country. The e – education reach of ATC CSRFI has broadened with the launch of ATC Stem labs and includes more than 50 schools in Bihar and UP. A strong partner network is going a long way in promoting digital literacy and financial and healthcare services. Fintso a B2B2C fintech platform has partnered with FinX which is an edtech company, and has a strong focus on training and employability in the BFSI space. By 2025 it will create 10,000 new entrepreneurial Independent Financial Product Providers or IFPPs. Industry leaders will support and assist the students to become financially independent during this programme. The pilot programme will include 500 students selected from all across the country. With an equation of 1: 17000 financial providers to Indian citizens, IFPPs will be strengthened through this programme and retail investors will be inducted into the mainstream economy. A generation of micro entrepreneurs will also be created in India. The positives that will emerge through this programme are active assistance at the start of the journey of a high growth business area with limited capital.
GIANT (Global Internet Access Network Token) Protocol, is a web3 protocol that decentralizes and democratizes access to the internet and financial services. The vision is to transform internet connectivity into a digital asset and create a new web3 Layer. The main aim is to tokenize bandwith platform and partner with telecommunications companies and connectivity providers worldwide. Anybody with a mobile phone can access the internet and just go online to become an owner. This novel economic platform will be seamless and secure and governed by the community. Approximately 5bn mobile phone users access broadband and mobile internet every year by paying over $2 trillion. This comes as a highly affordable and valuable suggestion considering the above data. Companies are going all out to ensure that technology does not remain the prerogative of a select few but transforms into an opportunity for all.
Digital transformation should impact all geographies and sectors as basic digital skills are needed to access essential necessities of life. Society is being helped to address the impact of the digital revolution. Access to digital tools and devices, teaching fundamental digital skills and creating employment in tech are some of the key areas of this initiative. The disadvantaged and backward population will benefit immensely from such initiatives and it will also help them find sustainable employment apart from empowering them for life. A large Population of women are also being included in this initiative. Technology is being rightly leveraged through CSR initiatives on bridging the digital divide to create a positive societal impact.