23 June, 2023: Multi-business corporation and FMCG conglomerate, Dharampal Satyapal Group (DS Group), recently announced '#CatchTheRightBin', a public awareness campaign. This campaign seeks to educate people on the importance of waste segregation at source to assist the waste management process. This drive was initiated under the brand Catch wherein the Group has introduced a solution that guides consumers on the correct bin disposal of the packaging.
The DS Group has implemented a simple yet impactful change by substituting the existing black waste basket symbol on the packaging with a coloured bin, in order to guide the consumer to the right bin. 
 Vice Chairman, DS Group – Mr Rajiv Kumar, while speaking on this initiative said that as a responsible corporate citizen, the DS Group recognised the importance of waste segregation and the need of bringing a change in the behavioural pattern of its citizens. He mentioned that his company wanted to create an awareness and drive that had a simple and positive call to action, and every individual could take this up and create a deep impact. The objective of #CatchTheRightBin campaign was an endeavour that sought to promote and inculcate the habit of responsible waste segregation at source. The company's aim was to set a benchmark in the waste management culture.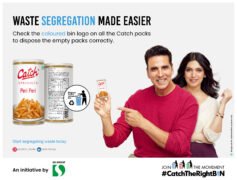 This campaign has been conceptualized by Dentsu Creative, and encourages the consumers to make waste segregation easy and invites other brands too to implement this method. A comprehensive 360-degree public awareness campaign for waste segregation will be launched by the DS Group. With a focus on educating and guiding people on the proper practices of waste segregation, this will comprise digital films, OOH, social media and on ground activation. Mindshare is the media partner for this campaign, and Grapes is the social media partner.
The sustainability initiatives of the DS Group are focused on water management, energy management, recycling and waste management and material conservation. The Group's business objectives focus on enhancing livelihoods and building sustainable communities.
#waste segregation # Catch The Right bin # DS Group # Rajiv Kumar # enhancing livelihoods # building sustainable communities