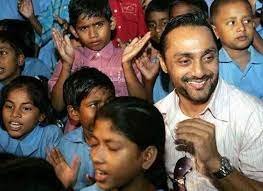 Empowering lives = Empowering nation: Rahul Bose
Many of our celebs in B-town have been lending their support (physically or monetary) for years now. And this time our cause-maker cum newsmaker is an actor who is known less for commercial cinema and more for parallel cinema. Time magazine entitled him as the 'superstar of Indian art house cinema' while Italy's Maxim magazine bequeathed upon him the title of 'the Sean Penn of Oriental cinema'. Yes! You got it right, we are talking about the sturdy actor from Kolkata – Rahul Bose. Besides having so many accomplishments to his credit in cinema, he actively participates in social causes too. His consciousness always keeps a special concern for issues which mar many aspects of humanity at large. Having an avid concern for such issues, Rahul initiated his NGO, The Foundation, in 2007, which is dedicated to remove all sorts of discrimination from the society. For the cause, working against sexual abuse, and enhancing education and awareness is where the NGO's focus is. It has been instrumental in providing education to children ranging from the remotest places in Kashmir to the interiors of Andaman and Nicobar Islands. Under the initiative, the foundation takes care of 16 kids (from age six to college-going students).
Bose's association with Oxfam too (one of the foremost international NGOs working in practically every area of human development in over 100 countries), as its first global ambassador, proves his mettle in the social sector. Since the time Bose has incepted the Indian arm of Oxfam, the organization is proactive in seven Indian states. The organization works for core areas like dalit and women issues and Muslim rights. Oxfam India is also doing exceptional work for the empowerment of women farmers.
Rahul-Bose-Adopted-Kids
While he is bound to juggle frequently between cinema, sports and his NGO, 300 days a year are dedicated to his NGO and the work associated with it. A person of varied talents, his forte includes a range from an advertising professional to an actor, from an orator to a screenwriter, from a director to a rugby player and to a social activist, et al. His social contribution doesn't end here as Bose is on the board of the Citizens for Justice and Peace. A few people (from Mumbai to the Gujarat genocide) who were working as peace and harmony builders across various communities back in 2006 inspired Rahul to take active participation in social work. With the help of some friends, the actor got associated with a Mumbai based NGO, Akshara. Rahul works in close association of the NGO to encourage 80-90 Muslim women to go to college and fighting the social orthodoxies in a very gentle, inclusive manner. Through this cause, the NGO brings the husbands of these Muslim women into picture thereby making it a thing of mutual consent. Not only this, he is extensively active in preserving nature and environment too. The year 2009 saw him becoming the ambassador for 'Planet Alert', an initiative to save the environment through various ways. If most of us, as citizens of this planet, think as Bose, poverty and misfortune can be eradicated from the face of earth. Best wishes from CSR team for your ongoing and future endeavors!