EPACK Durable Private Limited, in the OEM (Original Equipment Manufacturer) segment has recently announced the distribution of 560 bicycles to the dedicated doctors, nurses and paramedics of AIIMS or the All India Institute of Medical Sciences.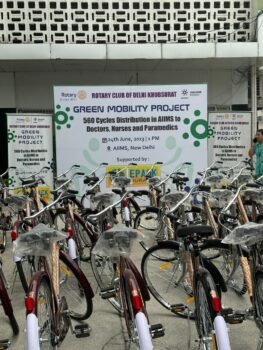 During the COVID-19 pandemic the selfless service for the community and the crucial role of the healthcare workers had come into sharp focus. This initiative will enhance their commuting experience and address the challenges posed by it. AIIMS had been at the forefront during the battle with the COVID – 19 pandemic and its staff had worked tirelessly to save lives and serve humanity. EPACK Durable recognised the challenges faced by them and stepped forward with this practical solution.
The bicycles will offer easy commuting within the campus, thus saving time, improving their wellbeing and promoting a healthier and sustainable transportation. The bicycles will be contributing to a greener environment and reducing carbon emissions. The large hospital campus of AIIMS proves to be challenging for commuting and particularly for those with mobility constraints. The medical staff will now be able to move conveniently and more efficiently between departments and buildings with the easy availability of bicycles. This will reduce their inconvenience and improve their overall experience.
The additional benefits of the introduction of this way of commuting is the promotion of health and wellness among the staff members by encouraging physical activity, reducing their stress levels and enhancing their cardiovascular fitness. The care and attention given to the patients at AIIMS will also be improved if the medical staff and caregivers are themselves in good health.
Director, AIIMS – M Srinivas expressed his gratitude at the generous donation of EPACK Durables. The bicycle he said allowed them to embrace an environment friendly and clean mode of transportation, which in turn would contribute to a cleaner and greener future. He said that AIIMS would be setting a remarkable example for other healthcare institutions by adopting these eco-conscious practices. They would also be a source of inspiration for the community to embrace sustainable alternatives. He added that this initiative would make a significant impact on the environmental wellbeing and patient care.
MD & CEO, EPACK Durable – Mr. Ajay Singhania, said that it was an honour for them to support the dedicated staff of AIIMS through this initiative. It was a small way to recognise their incredible efforts and sacrifice and this was a humble gesture to express their gratitude for the hard work and commitment shown by the AIIMS staff. This event was organised and coordinated by the Rotary Club.
# EPACK Durables # sustainability # easy commuting # clean transportation # Patient care # AIIMS # Ajay Singhania # M Srinivas # Healthcare workers # medical staff
,