News Update/Press Release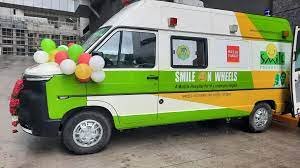 Healthcare Needs on Wheels
India, September 2021:  In the wake of severe effects of Covid-19, 3M India has joined hands with Smile Foundation to support the primary healthcare needs of the underprivileged population by deploying four mobile healthcare units at different rural locations. The healthcare vans will be flagged off on 6th September from Gurugram, Haryana, and will move towards Siddharthnagar in Uttar Pradesh, Gaya in Bihar, Balangir in Odisha, and Goalpara in Assam to provide preventive, promotive, and curative healthcare facilities.
With this partnership, the focus is to reduce the burden on public health infrastructure caused by COVID-19 by providing more than 1,50,000 treatments in these four regions over a span of 39 months (13,000 treatments per year per location). This initiative will also help in understanding the current scenario of the healthcare infrastructure in these areas and create awareness among people leading to improved behavior towards hygiene, social distancing, and overall wellness.
3M India is closely working with Smile Foundation to ensure that the underprivileged section of our society has access to medical facilities at their doorstep. Improving healthcare infrastructure is one of 3M India's key focus areas. 
Speaking on the occasion, 3M India CSR lead, Smitha Gopalkrishnan said "3M India's partnership with Smile Foundation focuses on promoting healthcare equity and will provide access to diagnostic and preventive healthcare services in remote and backward areas. As India continues to fight COVID and its variants, initiatives like this will help strengthen access to primary healthcare in our rural and remote communities. "
"We are delighted to partner with 3M India. We are optimistic that this partnership will help us deliver healthcare services to those most needy section in the identified areas. Our country continues to battle the pandemic with exemplary courage. It is time that all stakeholders increase coordination to reach out to those in dire need", said Santanu Mishra, Co-Founder and Executive Trustee, Smile Foundation.