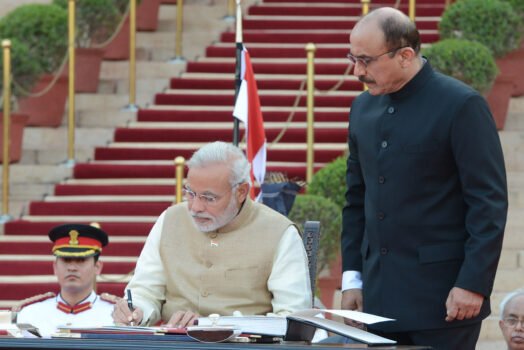 Narendra Modi: A commoner who rose to become one of the exceptional global figures!
This state of pandemonium and disorder could be viewed as the opportunity for another political party, but apart from BJP, no other opponent would carry the national capability and outreach. Within the fortress of BJP too it was a daunting task of hierarchy and potential leadership. Yet, amidst the indecisive scenario, a leader of the masses rose with a determination to spearhead the second largest national political party in India. Later what followed is a history. As he launched himself in tough campaigning, a phrase gained so much popularity that even the opponents could not stay away from knowing, reading or talking about it. The sweeping victory attained by him for BJP may be credited to factors like urbanisation, demographic shift and the age of digital media or social media. Digital and social media played an uber-critical role.
While he had initiated the campaign, many doubted his potential of leading the party to any successful outcome. On one hand, masses were of the view that leading a state is one thing while leading a party at national level is yet another. Hence, speculations were mix. Some experts credit Modi and BJP's victory substantially to digital and social media. The credit of the biggest election victory for BJP in 30 years with a stable government is partly considered as the outcome of the diligent and aggressive promotion and awareness created by advertisement agencies like Ogilvy and Mather, Soho Square, and Madison World – a media buying agency.
His influence the world over and on the world's most powerful man, US prez Barack Obama, could be seen clearly in a latest development wherein accolades poured in for Narendra Modi. Barack Obama has penned down the profile of Narendra Modi for TIME magazine's latest issue as a part of the world's 100 most influential people. This honour, one thinks, comes as a great honour for Modi.
Obama mentions the title for his profile as "India's reformer in chief". His brief piece about the Indian PM talks about the potential India has when a son of a tea-seller can rise to become the Prime Minister of the world's largest democracy. A well known fact that since 2002, the same country denied an American visa to Narendra Modi and has baaned his entry in the nation, but since May 2014 (when the fate of the largest democratic nation was to be decided), a change in mind has happened inside the boardrooms of the most powerful nation which was the first one to congratulate Modi and extending an invite to him to visit the United States.
Under his leadership, not only BJP has won such a gigantic victory in the last 30 years, but he has been able to change the face of the political party too. Till a few years ago, a person who was known as a hardliner and a fundamentalist, has been viewed as a leader who has risen above these petty yet superficial issues like religious mobilization and identity politics. With an image makeover after the alleged spot to his reputation, he has been able to reach a political milestone with the re-invention of his own life as a political figure and as a leader to an extent that that this man is more popular than BJP itself.
His victory in the general elections last year is not driven by family inheritance, or any legacy. This first-generation achiever has made his own fortune, taking BJP to new heights too. Legacy didn't drive his stature and popularity among the masses but it was sheer talent and potential.
As the year 2014 came to a closure, Forbes magazine came up with a list of "The World's 72 Most Powerful People" and to everyone's surprise, Russian President Vladimir Putin secured the top spot in that list for the consecutive second year. The list contains 12 freshers for the first time amongst which sometimes known to by synonymous to common man – Narendra Modi grabbed the 15th position.
On the other hand, Google recently came out with top 10 most searched about Indian personalities and no wonder the Prime Minister secured his spot in that list. Surprisingly, he even surpassed celebrities like Salman Khan, Katrina Kaif, Shuhrukh Khan, Deepika Padukone etc yet the voluptuous Sunny Leone surpassed him. Never mind! Exceptions can be driven by youth sometimes!
After he assumed office in May 2014, everything he's doing is a matter of grit, vision, labour and dedication. His cabinet ministers are always kept on toes by the tough headlines given to them. He's declared zero tolerance when it comes to clean governance and meeting the promised work. His planned visits to various nations like the US, China, Japan and Europe comes from a vision to bring the world to India to invest, seek opportunities and make it a global economy. Relationship development and replacing harmonious co-existence irrespective of the past bitterness is yet another priority area.
With the policy reforms and clean governance, Modi has been able to win trust of many developing and developed nations while hope has returned back in its citizens towards a greater and brighter future, from a gloomy scenario since sometime ago.
Proof of his leadership brilliance:
Recently, IMF has termed India a 'bright spot' in the global economy. Not only this, it says that India is growing faster than expected at 7.25% currently, which is supposed to touch 8 or 9% given structural reforms are made. As a result of Modi's economic reforms, the country is not at all going to stop as a robust economy with the IMF and World Bank claiming that it will become the fastest growing economies in the world, surpassing even China.
Work Report Card of Narendra Modi: what makes him a great leader of masses?       
Many experts say today that Modi has been able to nurture many qualities in his life which many would think contrary till the general elections. If one reviews closely the content of his speeches so far, one would find that the PM has avoided any confrontational language – which may fume and agitate the minorities or religious leaders.
Secondly, despite the differences and separate ideologies, the common man's leader has established a strong camaraderie even with people from opposition and people who are viewed as not sharing a healthy rapport with him. A Congress leader even wrote, while Modi led the BJP to a giant win in the general elections last year, he was completely shocked to receive wishes and congratulations from Narendra Modi when this leader emerged a victor in his constituency during the same elections.
He has abridged many gaps while filling the existing loopholes in the prejudiced opinions and preconceived notions within BJP towards its opponent party – Congress. Modi has stopped many of his ministers and key people from renaming several government projects/programmes which were either named after the Nehruvian dynasty, the Congress Party or its leaders. He was of the view that rather than renaming working to make them successful is more important. Rising above the domains of hatred and differences, Modi's life shows how he is working for the common good, mutual coexistence and development of all.
His cabinet appointments saw the omission of various hardliners or Hindu radicals, a reason of anxiety and angst towards BJP by the people. Putting them on backburner, the PM decided to bring to the fore more brighter, intelligent and liberal youngsters by giving them certain significant responsibilities.
A well planned itinerary is always on his mind. The idea is not enjoy overseas trips but to strengthen India's ties with various countries and developing mutual understanding and cooperation, to overpower the misconceptions and to enhance trade exchanges. Various schemes and projects have been devised by him, envisioning putting India on growth trajectory. Breakthroughs in defence, climate change and clean energy with the US have been some of the prime examples of his vision.
Various reformative initiatives taken by the Government of India under Modi's leadership:
The Union Budget 2015-16 mentions an allocated expenditure of Rs 1,37,333 for infrastructure, which is at 29.5% in the Budget. Unified National Agriculture Market, Make in India, Corporate Bond Market, Micro Small and Medium Enterprise (MSMEs), Monetary Policy Framework, 'Act Easy' Policy, establishment of various commercial divisions in various courts, Skill India, Digital India, Swachh Bharat, Clean Ganga are a few prime examples where either reforms are already made or are underway.
Some path-breaking steps taken by the government to address the concerns:
The diktat of the government to establish a Public Debt Bond Market will curtail the excessive dependence on banks for long term funds.
The civil justice system is reformed with the announcement of commercial divisions in various courts.
The states of UP, National Capital Region, Haryana, Rajasthan and Maharashtra will be connected through the $ 90 billion Delhi-Mumbai Industrial Corridor (DMIC), a joint initiative by Indian government and Government of Japan. The project is designed in a way to create Smart Cities with latest technology transfer, high capacity transportation and logistics facilities, assured water supply, skill development et al. The Smart Cities across the corridor will generate humongous employment.
24 manufacturing cities will be developed under the DMIC project. Therefore, an untapped potential of business and making India a manufacturing hub is about to be untapped. Investors could view it as a high time to make investments.
Apart from DMIC, the government has created a blueprint for four such corridors: Bengaluru-Mumbai Economic Corridor (BMEC), Amritsar-Kolkata Industrial Development Corridor (AKIC), Chennai-Bengaluru Industrial Corridor (CBIC) and East Coast Economic Corridor (ECEC). Connecting the major cities and other related places with these corridors will give a facelift to the existing bottlenecks in Indian infrastructure.
Digital India and Skill India programmes will train and provide the required skilled workforce to the country with technological exchanges from the other nations.
The development of 100 Smart Cities will also ensure smart satellite towns around existing cities.
Decision making has been centralised with PMO playing a bigger and significant role.
Any file related to decision making will only be signed by 4 officials and any business related query will be answered within a timeframe of two weeks.
Regulatory compliance returns have been reduced while de-licensing has been introduced on many defence products.
The procedure of environmental clearance has also been simplified with relaxation in the process.
With 24/7 accessibility of online application filing for industrial licensing, the stringent and rigid gateways have been curtailed.
Making India an investors' hub:
Chocolate maker Mars, for instance has committed Rs 1000 crore to manufacture chocolates in India while Actis is investing $ 230 million in renewable energy in India. Asian infra investor Equis Funds has committed $ 116 million in Assetz, a property developer. Examples like Japan, which is anticipating high-speed rail contract in India or Airbus which has signed the largest ever sourcing deal in India or appliance brand BSH planning expansion in India, are all examples of the positive sentiment prevailing among the foreign investors at present. By the next year's Independence Day, India will house the world's largest solar power plant (750 MW) and banks offering easy loans for renewable energy are all signs which make India a cynosure for many global eyes. The trend is upbeat with India offering an open environment, making various reformative measures, ease of doing business and making India a global hub for business opportunities, and one can say, the time is ripe.
While on the other hand the common man as well as people from all walks of life have great expectations from the new government, and if buzz has to be believed, Modi has been able to win the hearts of a larger population with qualities like his sharp decision making, dynamism, vision and dedication to bring growth and prosperity for all. In short, he is an achiever in true sense.
For the moment one can say: He has taken the bull by the horns!Open publish panel