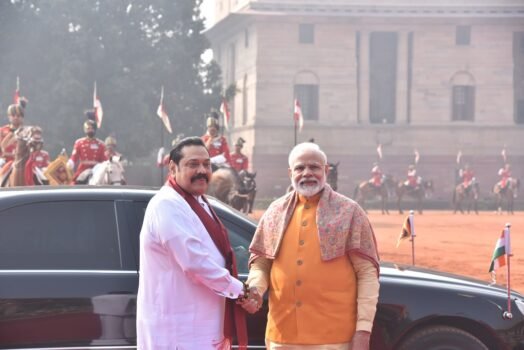 PM Modi on a religious tour to Sri Lanka; reassures cooperation in nation-building
When Prime Minister Narendra Modi visited Sri Lanka in March 2015, he became the first Indian Prime Minister to visit the nation after 28 years. The Prime Minister's visit followed soon after Sri Lankan President Maithripala Sirisena came to India on his first foreign trip after assuming office. In a little more than two years, Modi visited the southern neighbourhood once again from May 12- 14, 2017. The visit was said to be a religious trip but the ultimate purpose was as always strengthening bilateral economic, political and cultural ties with the island nation. Prime Minister Modi was the chief guest for the 14th International Vesak Day, which commemorates Lord Buddha's birth, enlightenment and passing away. The Vesak Day celebrations were held in Colombo and the event included an International Buddhist Conference in which over 400 delegates from more than 100 countries participated. Speaking at the opening ceremony of the International Vesak Day celebrations at the Bandaranaike Memorial International Conference Hall in Colombo, the Prime Minister said it is a day to reflect on the supreme truth and timeless relevance of Dhamma and the four noble truths. "Buddhism and its various strands are deep seated in our governance, culture and philosophy. Vesak is an occasion for us to celebrate the unbroken shared heritage of Buddhism between the two countries; a heritage that connects our societies across generations and through centuries. The friendship between India and Sri Lanka was etched in time by the Great Master. Buddhism imparts an ever present radiance to our relationship."
Announcing that Air India will operate direct flights between Colombo and Varanasi from August this year, he said, "As close neighbours, our relationship spreads across many layers. It draws its strength as much through our interconnected values of Buddhism as it does from the limitless possibilities of our shared future. This will ease travel to the land of Buddha for my brothers and sisters from Sri Lanka, and help you directly visit Sravasti, Kusinagar, Sankasa, Kaushambi and Sarnath. My Tamil brothers and sisters will also be able to visit Varanasi, the land of Kashi Viswanath." He further said that India is committed to the economic prosperity of Sri Lanka and will continue to invest in driving positive change and economic growth to deepen the relationship. "We believe that free flow of trade, investments, technology and ideas across our borders will be to our mutual benefit. India's rapid growth can bring dividends for the entire region, especially in Sri Lanka. In infrastructure and connectivity, transport and energy, we are poised to scale up our cooperation." Prime Minister reiterated: "Our development partnership stretches across nearly every sector of human activity such as agriculture, education, health, resettlement, transport, power, culture, water, shelter, sports and human resources. Today, India's development cooperation with Sri Lanka amounts to $2.6 billion. And its only aim is to support Sri Lanka in realizing a peaceful, prosperous and secure future for its people. Whether it is on land or in the waters of the Indian Ocean, the security of our societies is indivisible. As you make important choices for the harmony and progress of your society, you will find in India a friend and partner that will support your nation-building endeavours."
The biggest challenge to Sustainable World Peace today, he said, is not necessarily from conflict between the nation states, but from the mindsets rooted in the idea of hate and violence. "The menace of terrorism in our region is a concrete manifestation of this destructive emotion. I firmly believe that Buddhism's message of peace is the answer to growing arc of violence all over the world. India and Sri Lanka will work together to uphold the ideals of Lord Buddha and promote values of peace, accommodation, inclusiveness, and compassion in the policies and conduct of our government." The Prime Minister inaugurated a multispecialty hospital at Dickoya in the Central Sri Lankan hill district of Nuwara Eliya. The 150-bed hospital was constructed with Rs 50 crore financial aid given by India to Sri Lanka. India has committed $2.6 billion in developmental aid to Sri Lanka and the hospital is a part of the programme. The area where the hospital is located is home to a large number of Indian-origin Tamil tea plantation workers. The PM later addressed a large gathering of Indian origin Tamils at Norwood, where he spoke of the contributions of the Indian-origin Tamil community to Sri Lanka.
Modi said, "If Sri Lanka today is the third largest exporter of tea, it is because of your hard work. It is your labour of love which is instrumental in Sri Lanka meeting almost 17 per cent of the world's demand for tea, and earning more than $1.5 billion in foreign exchange. You are that indispensable backbone of the thriving Sri Lankan tea industry that justly prides itself on its success and global reach today. You form an important link between Indian and Sri Lankan people and government. It is my government's priority to nurture these links. We will continue to work tirelessly for your socio-economic upliftment." The Prime Minister spoke about the efforts made by India together with Sri Lankan Government, particularly in field of education, health and community development sectors. The Ceylon Estate Workers Education Trust (CEWET) was set up way back in 1947 in order to encourage promising students to continue their studies. Under this, 700 scholarships are annually given to students for studying in Sri Lanka and India; vocational training centres have been set up and 10 English language training centres and labs to help impart suitable skill sets. As part of the innovative Indian Housing Project in Sri Lanka, 4,000 houses are being constructed. Modi announced the construction of an additional 10,000 houses in upcountry areas under the project. The Prime Minister also met representatives of the Ceylon Workers Congress and the Tamil Progressive Alliance.
commemorating the foundation laying of the Faculty of Kandyan Dance at the Sri Lankan International Buddhist Academy that will again be constructed with aid from India. He visited the Seema Malaka at the Gangaramayya temple where he took part in the lamp-lighting ceremony and Sri Dalada Maligawa in Kandy, which houses Sri Lanka's most important Buddhist relic, a tooth of Lord Buddha. Earlier briefing reporters on Modi's visit, Joint Secretary (Indian Ocean Region) in the External Affairs Ministry, Sanjay Panda had said no structured talks have been scheduled, but Modi will be interacting with the Sri Lankan leaders. He said India's ties with Sri Lanka have witnessed qualitative transformation in the last few years and both the countries are willing to strengthen the relationship further.