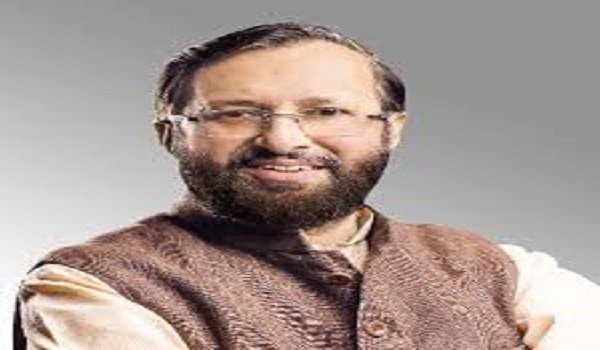 Prakash Javadekar​
Union HRD Minister, Govt. of India
Making Education Accessible
In an interview with Amit Goenka Union HRD Minister Prakash Javadekar spells out the measures being taken by Narendra Modi Government to make education high quality and affordable
The HRD Ministry wanted to explore the possibility of mid-day meals in schools on holidays. Is this plan feasible and if so what is the government doing?
Mid Day Meal is the biggest food-in-the-school program of the world. More than 10 crore students are fed every day with Dal and Rice or Chapati and Sabji. It is the biggest program delivered at nearly 10 lakh points in 10 lakh Government schools and it's very useful and a big success. The daily expenditure is more than `800 crore so more than `10000 crores we spend throughout the year and we are improving it. Some people suggested to provide mid-day meals in schools on holidays but that is neither practical nor is it the government's promise. This has never been a government decision, it is just a suggestion by somebody.
Status of the PM's plan to make 20 world class universities? Is `10,000 crore sufficient in your opinion?
Status of the PM's plan to make 20 world class universities is on track and we were very happy to receive nearly 113 applications. It shows the willingness for competition to achieve quality status.There will be 10 private universities to be selected which will not be funded by government and 10 existing government institutes which will be given additional `1000 crore each. They already exist and they have very good infrastructure and research labs. They are getting first from India higher education finance agency also. This `1000 crore is an additional grant given by the government to the government institutes.
Is there a plan to merge the UGC and the AICTE and what are the hurdles in the way?
It is not planned to merge them but to have a common law for all regulators which includes NCTE (National Council for Teacher Education) also. All college educations regulators will be brought under one umbrella to have the same seamless processes, the same kind of rules and transparency brought in. The respective AICTE will look after technical education, UGC will look after general education, NCTE will look after the teacher education and distance learning will also be regulated by another wing of the same one regulator.
Chief of Army Staff, Gen Bipin Rawat wanted a book on heroic achievements of the highest gallantry awards recipients from the armed forces in the CBSE schools curricula. Will it be implemented next year?
We have already introduced this book, National Book Trust has published it and all Government schools have those books. These are extra readings and that is how this should be.
The Centre giving exception from NEET to Tamil Nadu has set a precedent. Will this happen next year too? How will the ordinance passed by the TN government affect NEET next year?
No, we are not giving exception to NEET. This was demanded by some States but Supreme Court has ruled that it will be only NEET and so there is no exception granted. This year NEET examination would be held on May 6 at 150 centres, which is a big increase from 107 in previous years. New centres have been set up in Andhra Pradesh (5), Assam (2), Gujarat (3), Maharashtra (6), Odisha (4), Tamil Nadu (2), Kerala (5), Telangana (2), West Bengal (3), Uttar Pradesh (3) and one new centre each in Chhattisgarh, Jammu and Kashmir, Jharkhand, Himachal Pradesh, Rajasthan, Punjab, Karnataka and Uttarakhand.
What is the status of Skill India program? Will the MoU signed between India and Japan be counted as part of this? When will the first batch of students go to Japan and what is the process to apply?
The Skill India programme is on track, it is dealt with by the different ministries. As far as 10 level skills are concerned, 1-5 are dealt with by the Ministry of Skill Development and 6-10 are dealt with by the HRD ministry. The the Ministry of Skill Development has developed a very robust plan of action where millions of youths will be trained each year in various sectors skills and therefore they will get jobs because of their skills.
SC has cancelled the degrees obtained by long distance education programs offering technical education, why was the SC the one to do this and not the MHRD? What are the plans for offering good quality distance education in the future?
Technical Education was not intended to be imparted through distance learning because we need to have a robust accreditation plan of training centres for such education. Till that time and the arrangement which is being developed by the Ministry of Skill Development comes in, we will not allow Technical Education through long distance learning.