news update/press release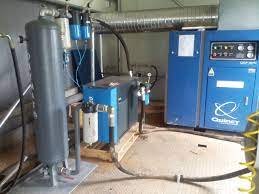 Setting up Oxygen generation plant for medical emergencies
Baroda, India, October 21, 2021: Huntsman Textile Effects, the global leader in innovative and environmentally sustainable dyes, chemicals and digital inks, today announced the partnership with the Padra Industrial Association (PIA). Huntsman will dedicate a medical grade oxygen generation facility to the people of Gujarat. This partnership is part of Huntsman's corporate social responsibility (CSR) initiatives. 
Located at the Padra Primary Healthcare Center, the medical oxygen generation facility has a capacity to generate oxygen of 10Nm3 per hour at 90-93 percent purity. It is well equipped to cater up to 50 beds in the medical center. The initiative is part of Huntsman's ongoing efforts to improve the health infrastructure of the Padra district, as well as to raise the quality of life of the communities in and around its state-of-the-art plant.
"Even though the country and Gujarat is witnessing a decline in Covid-19 cases, Huntsman believes that we should not let out guard down and should be prepared to combat any medical emergency in the future. I am happy to share that the oxygen facility will meet all the requirement of this centre. Huntsman remains committed towards the welfare of the people of Padra district, and we will continue our efforts to work with our communities towards a better tomorrow," said Mr. Rahul Tikoo, MD- Huntsman, India sub-continent.  
Huntsman operates a state-of-the-art global dyes and chemicals manufacturing unit in a designated industrial zone of Padra in Baroda, Gujarat. The facility is spread across 62 acres and offers direct and indirect employment to over 800 people. The site is currently involved in a community outreach project with three surrounding villages that is focused on Education, Health, Water and Sanitation and Animal Husbandry under the CSR initiatives.
"Padra Industries Association is also proud to partner with Huntsman, a leading player in our industrial zone, to dedicate this medical oxygen facility to the people of our district. It has always been PIA's endeavor to work towards the betterment of the health of our locals and to also ensure that there is economic prosperity in our region," said Mr. Pravin Rabadia, President, Padra Industrial Association (PIA).
"At Huntsman, we prioritize the health and wellbeing of the communities we operate in, alongside the safety of our associates. We have several welfare programs in the pipeline that would support the communities in which we operate in. As a business, we will continue to extend our work in this area – building on existing programs that help address health and livelihood related needs," said Mr. Kavishwar Kalambe, Site Director, Huntsman Textile Effects.
During the pandemic, Huntsman India had been able to support more than 2,00,000 people by contributing over 20,000 units of essential medical equipment to frontline workers. PPE kits, N95 respirators and face masks, surgical gloves, sanitizer solutions, and hand-free dispensers were distributed across Mumbai, Pune, Chakan and villages near Baroda.
Huntsman's mobile medical vans in Mumbai and Pune provided free healthcare facilities to more than 25,000 people, which was the sole medical help available to the community at the time of total lockdown. Additionally, Huntsman dedicated a multipurpose state-of-the-art medical facility at the primary health center (PHC) focusing on women and child health care catering to over one lakh people from 34 villages in and around Karanj Vihire region near Chakan. Huntsman, through its various initiatives, continues to reiterate its commitment to supporting communities and helping people emerge from the current situation stronger, together. The company was also recognized by the Federation of Gujarat Industries for CSR excellence in February 2021 for initiatives focused on improving livelihoods across villages in Gujarat.