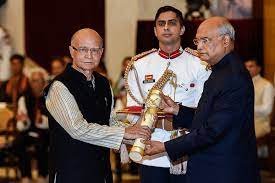 Bharat Ratna 2019 – Pranab Mukherji, Nanaji Deshmukh, Bhupen Hazarika​
The Bharat Ratna is the highest civilian award of the Republic of India, instituted in 1954. The award is conferred "in recognition of exceptional service/performance of the highest order", without distinction of race, occupation, position, or sex. The recommendations for the Bharat Ratna are made by the Prime Minister to the President, with a maximum of three nominees being awarded per year. The 2019 Bharat Ratna award has been bestowed upon three great personalities, namely former President Pranab Mukherjee, Social worker Nanaji Deshmukh and singer Bhupen Hazarika. Nanaji Deshmukh and singer Bhupen Hazarika were awarded Bharat Ratna posthumously.
Pranab Mukherjee served as the 13th President of India from 2012 until 2017. A veteran congressman, Pranab Mukherjee had held various key portfolios like Finance, Defence and External Affairs as Union Minister. Pranab Mukherjee was born in a Bengali family. He had exceled MA degree in Political Science and History and LL.B. from the University of Calcutta. He has also served as a professor of Political Science at Vidyanagar College in West Bengal. Before entering Politics, he worked as a journalist with 'Desher Dak'.
Another Bharat Ratna recipient Nanaji Deshmukh laid great emphasis on education as a social worker. The first Saraswati Shishu Mandir was established by him at Gorakhpur in 1950. He was a member of RSS and also served as general secretary of Bharatiya Jana Sangh. During the Emergency Nanaji Deshmukh took part in Jai Prakash Narayan movement. He got elected as a member of Lok Sabha from Balrampur in 1977. He has also served as a nominated member of Rajya Sabha. Nanaji was awarded Padma Vibhushan in the year 1999.
 Bhupen Hazarika was a playback singer, lyricist, musician, singer, poet and film-maker from Assam, widely known as Sudhakantha. He mainly wrote and sang in the Assamese language. His works were marked by humanity and universal brotherhood and have been translated and sung in many languages. He also served as a channel to introduce the culture and folk music of Assam and Northeast India to Hindi cinema at the national level.