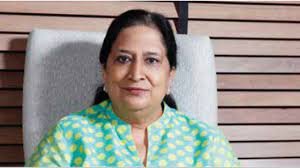 SUMAN MINDA, President and Chairperson of Samarth
SUMAN MINDA as President and Chairperson of Samarth -Jyoti is leading the CSR Initiative of UNO MINDA Group. In a discussion with HARISH CHANDRA, she delineates the culture of giving in the corporate house
UNO Minda group has entered 60th year of its operations. Tell us something about its founder, his vision, group's inception and evolution.
UNO MINDA Group started in 1958 by our inspiration and my respected father-in-law late Shri SL MindaJi. It's because of his values and guidance we are here. He was a social worker by heart with a desire to make a difference to society. He at the age of 60 took a back seat in business and dedicated himself completely into social service and philanthropy. He laid the foundation of Moga Devi Minda Charitable Trust in 1987, under aegis of which he started different philanthropic activities. When an Earth Quake hit Gujarat he visited the sites for distribution of relief materials to the victims and found many of destitute and orphaned. And there he decided to support these children. Today the trust runs a Bal Gram (a long term institutional care) to support Child in Need of Care and Protection at Alipur, Delhi,a Sr. Sec. School and 100 bedded hospital for rural community at Bagla, Hisar. We run Samarth – Jyoti centres in different parts of India for providing education and vocational trainings to underprivileged section of the society to live life with dignity and happiness. All these centres cater on individual's capacity building and skills enhancement for their future. And I always believed that service to the needy is service to the humanity.
As part of its governance principles, the UNO Minda group focuses on three areas – community engagement, ethical responsibility and environment responsibility. How is the group implementing the same?
As a responsible corporate citizen, UNO MINDA Group is committed to its various responsibilities. Sustainable development and a clean environment integrated with business objectives are at the core of operational focus at NK Minda Group. The Group firmly believes that the governing principles of honesty, trust, and integrity will lead to the Group becoming a model to emulate. It understands the need of fostering the spirit of enterprise and accountability, promoting transparency and responsibility. This spirit is carried forward in all its business communications with the regulatory bodies, employees, stakeholders, shareholders and customers.
The Group ensures that the rights and interests of all stakeholders are recognised and all legal, statutory and other obligations fulfilled. The Group has developed a code of conduct for its management and executives to ensure that the disclosure rules are followed and there is accountability and transparency in the working of the organisation. The company takes diverse programs/initiatives under the aegis of company run Trusts to reach out and connect with people in the areas adjoining our industrial units. These programs are tailored to address the actual need of these communities.
When did UNO Minda adopt CSR as part of its charter and how has been the progress?
 As shared earlier, we were into social services for decades and in 2012, Samarth – Jyoti program with a vision to enable and empower underprivileged children, adolescent and women were institutionalized. Currently we operate in four states (Haryana, Maharashtra, Tamil Nadu and Uttrakhand) with seven centers. In addition to these activities regular community development programs are conducted as per the need of the people. We at Samarth – Jyoti organize events and meetings on a regular basis to take feedback and engage community members. The increase in the number of participation of parents and community members shows the wide spread acceptance of the initiative. Panchayat representatives also appreciate and acknowledge our effort by participating in all the events and by recommending students for our programs.
UNO Minda today has a global footprint. How is it meeting its CSR mandate in the nation's abroad?
Today, CSR is compulsory for companies as per the act but it is important for practitioners to implement it in an effective way at ground and in line with community need. For us it was always a service for the welfare and well being of needy people. Going forth, we would continue with our vision, complying with all the required laws and norms for government and reach out to maximum people.
Has the UNO Minda developed a sustainability roadmap? What are the major landmarks in it.?
We always encourage sustainable business and community development programs. With our existing business model, we are consolidating our position in existing products and coming up with new technology products which are expected to shape future auto industry with increase in number of employment. In order to promote community development initiatives other than our existing CSR programs, we would be coming up with 100 bedded multi-specialty hospital and senior secondary schools at different locations. We are always keen on providing additional need based support to the society wherever we are operational. In environment also we are partnering with NGOs promoting Swachch and green India.
Reduce, Recycle & Reuse is the mantra given by Prime Minister Narendra Modi for combating the menace of garbage. How is the UNO Minda group assimilating the principles of Swachch Bharat Mission into its CSR/sustainability plans?
We support Swachch Bharat Mission of Govt. of India. We encourage and align with the 3R policy – Reduce, Reuse and Recycle. We encourage less usage of paper. Recently we have given tractor and trollies to the villages to manage their daily waste to promote cleanliness and also supported villagers with sweepers promoting clean and healthy environment. All our manufacturing facilities are equipped with an Effluent treatment plant and water recycling unit to ensure that our plants are zero discharge plants.
People empowerment is one of the major goals of any modern, ethically run corporate house. How is UNO Minda working towards it?
Our group takes different activities and programs to encourage and empower people. Our human capital practices are evolving with changing times. We celebrate national and international days like women's day, world no tobacco day, international literacy day, national sports day, etc. to sensitize people in and around our industries about the issues and also about their rights. We also provide employees friendly facilities/services to motivate our people.
Samarth Jyoti is the flagship program of UNO Minda's group CSR initiative. Could you please share some of its initiatives & achievements?
Samarth – Jyoti started for the welfare of rural people. It runs under the aegis of Suman Nirmal Minda Charitable Trust registered under societies act to engage and empower underprivileged people through education, vocational training and need based community interventions. It aims to reach out to the disadvantaged sections of society by providing conducive environment and improve quality of life. Our approach is to encourage, educate and empower people. Many of our students started their own business retail outlets (Beauty Parlor or Tailoring Shop) which are running successfully. Many other students either earn from their home or provide need based solution to their own family members by stitching their clothes. For school going children, we provide basic reading & writing skills. I am pleased to share with you that this year onwards, we have started giving financial support to scholars in Karawang, Indonesia for continuing their education. As far as our achievements our concerned, so let me share with you personally that we always believe in community participation in our programs and always involve stakeholders in major decision making. We feel happy with increased participation of people. This year, we have been conferred with three national awards for our CSR activities out of which one was conferred by Manufacturing Today. These recognitions motivate furthering our efforts. I express sincere gratitude to all the stakeholders who are directly or indirectly associated with this noble cause.