The Power of One –Empowering Many through education!
By : Prasad Narayan & Rekha Krishnan President/Executive Director The Power of One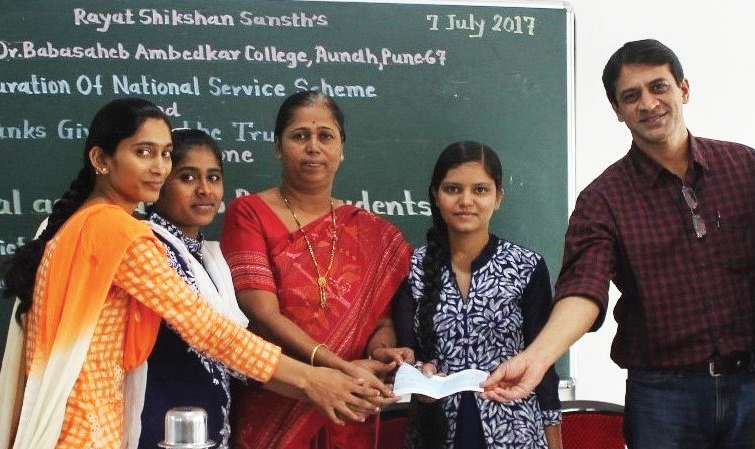 The Power of One' is an educational trust that was established in 2016 by Prasad Narayan and his wife, Rekha Krishnan. The trust aims to help students who want to pursue a college degree but are facing difficulties because of financial constraints. Since the academic year 2017-18, as of September 15, 2023, the trust has so far sponsored 265 students by paying tuition fees to the tune of over Rs. 22 Lakhs across several colleges. The dynamic duo acknowledges the help and contribution of their family, friends, & well-wishers without whose help this would not have been possible. They exemplify the adage "Actions speak louder than words'' since people have donated to their trust after going through their website and checking their Google reviews. The Trustees work as full-time employees in IT companies and the work done related to the educational trust is done purely out of passion and commitment to empower the needy and deserving. However, the Trustees are greatly indebted to those who have made generous contributions With the inherent possibility of maximum funds coming from NGOs, charitable trusts, organizations, businessmen and other individuals, Prasad urges all the tax payers to come forward and join hands in helping the poor and the needy.
Prasad draws inspiration from the famous inscription on the desk of the President of the United States – Harry Truman "The Buck Stops Here." He is of the firm belief that education is a collective responsibility and one should NOT pass the buck to others, more importantly high Net[1]worth individuals should be an integral part of the education process and participate in training others. Prasad confesses that Mahatma Gandhi's quote "Be the change that you wish to see in the world" also went a long way in inspiring him to take up this noble cause. The sponsored students by "The Power of One" have taken admission in institutes like, Savitribai Phule Pune University, Fergusson College, Modern Law College, Gokhale Institute of Politics and Economics, IIT Dhanbad, Parul University, Baroda, Dr. DY Patil Arts, Commerce & Science College, BG College of Arts, Commerce, Science & CS, Wadia Institute of Technology, Brihan Maharashtra College of Commerce, Saraswati Mandir Night College of Commerce & Arts, Zeal College of Engineering & Research, Pune etc. These students are pursuing their studies in various disciplines like, Arts, Commerce, Science, Engineering, Law, and many more. All these students have a great academic record but come from families that are struggling to meet their daily needs.
WHAT MAKES THE POWER OF ONE DIFFERENT?
They are only a two-member team operating from their home office. Hence their operational costs are minimum and that enables them to support many deserving students.
Extremely transparent with beneficiary name, fees paid, college/course name.
Regular updates are shared on the progress of students and their employment.
Trustees meet/talk with every student (sometimes even with their family), do a reference check before sponsoring their tuition fees.
Students are chosen purely on academic merit.
No cash payments are either accepted or given out.
No refunds are expected when students pass out of college. However, they are encouraged to contribute once they are employed.
Unlike other NGO's, they do not request people to donate any fixed amounts of Rs. 1000, Rs. 2500 or more. They in fact are told to 'Contribute any amount that suits them without any compulsions or pre-determined amounts. Employees form the backbone of a company. Since their educational trust has ZERO employees, they would like to humbly acknowledge the contributors as their pillars of strength. Their deepest gratitude goes out to all the patrons for their continued association in making 'The Power of One' a highly successful organization. To know more about the educational trust, please visit their website, www.thepowerofone.co.in