28 September, 2023: DryChem India Pvt Ltd Group of companies in the manufacturing of building construction materials segment has its' CSR arm – Walplast Welfare Foundation (WWF). This foundation collaborated with a nonprofit organisation Project Nahi Kali for an inaugural event in Palghar. Project Nanhi Kali, works towards providing high quality education and assistance to the underprivileged children nationwide.
 The event in Palghar, Navi Mumbai saw a turnout of 60 participants of the Nanhi Kali program, who were accompanied by their parents, representatives of Dry Chem Indi Pvt Ltd and Nanhi Kali Foundation as well as community partners.
The event commenced with a welcome speech followed by a special performance by the Nanhi Kali school children. Learning kits were distributed by the Walplast Welfare Foundation team post this performance.
Head of Marketing, CSR, Toll Manufacturing & Business Head – P2P Division from Drychem India Aniruddha Sinha, praised the bright young minds of Nanhi Kali and said he was extremely honoured to be standing amongst them. The educational kits that they were providing to them he said goes far beyond just providing materials. In fact, they were the tools that the girls needed to dream, learn and succeed in life. This event he added, marked the beginning of a journey that was filled with hope and determination and also exemplified the collective will to bridge the gender gap in education.
The underprivileged girls through the Nanhi Kali program are provided with the support needed to continue their education. The program gives them a personalized adaptive EdTech learning platform that shapes instructions to the learning level of each girl, making sure that their comprehension is better and the learning more meaningful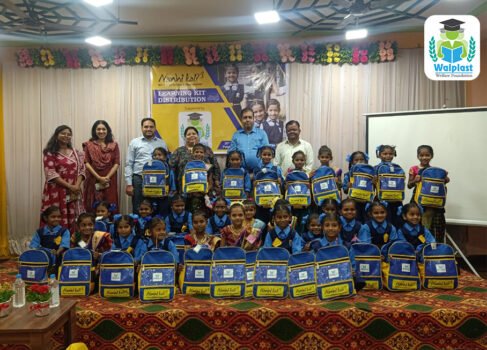 An awareness about the importance of girls' education is raised within local communities through this program.  The software is delivered to the girls via digital tablets that is powered through artificial Intelligence
Managing Director of Drychem India, Shri Kaushal Mehta said, that their company firmly believed in the strong connection between social responsibility and business. He said that their company objective was to go beyond philanthropy and improve communities and the environment. Their partnership with Nanhi Kali was owing to their belief in the transformative power of education in creating a positive societal change.
Project Nanhi Kali was started by Mr. Anand Mahindra in the year 1996 and has been working towards providing holistic support to the economically and socially disadvantaged girls who are enrolled in government schools across India.
#DryChemIndia#NanhiKaliFoundation#KaushalMehta#AnandMahindra #WalplastWelfareFoundation#AniruddhaSinha#underprivilegedchildren #girleducation