WELFARE SCHEMES(INDIAN ARMY)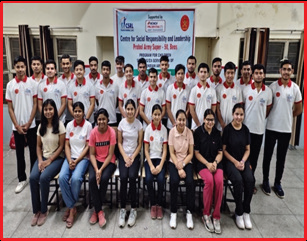 Overview Indian Army, driven by its ethos and customs, has always endeavored to ensure welfare of the serving soldiers and retired personnel. In this direction multitude of welfare schemes have been launched, both 'in-house' i.e. by the Welfare Directorate of Indian Army and 'in collaboration' with the e steemed Corporate Social Responsibility (CSR) partners. In particular, the Schedule VII of Section 135 of the Companies Act, 2013 from the relevant Ministry of Corporate Affairs notification, Corporate Social Responsibility (CSR) is being undertaken for the benefit of the Armed Forces Personnel, veterans, war widows and their dependents. Scope The focus areas in respect of the Indian Army's CSR partnerships with reputed corporates have been in the areas of education, medical, hospitality and many other welfare activities. Simultaneously, a continuous endeavor is being made to enhance the scope of collaboration with the industry leaders. Education-related Residential Coaching for Competitive Examinations Under the flagship CSR partnership programme called 'PRABAL ARMY SUPER-50 PROJECT', at a cost of ₹3.00 Lakh/ Student per year, free residential coaching is provided to selected wards of Serving soldiers, Ex-servicemen and their dependents for competitive entrance exams for Medical and Engineering streams at Pune, Sukna & Beas in collaboration with various CSR partners.
Medical-related Palliative Care Centres (PCCs). (a) PCC caters to medical care of serving personnel, Ex-servicemen and their dependents, who are suffering from life-threatening terminal illness. These institutes provide 'free of cost' after care medical aid to such disabled patients at a time, when their disease is no longer responsive to curative treatment, and when their life expectancy is relatively limited. (b) Each PCC caters to fifteen residents. These PCCs are located at Barrackpore, Delhi Cantt, Jalandhar, Lucknow, Pune, Chennai and Jammu. Paraplegic Rehabilitation Centres (PRCs). a. PRCs have been established and being operated for quadriplegic/ paraplegic persons from all the three Services, who sustain spinal cord injury during active service. These centres provide after care and medical aid including 'free of cost' boarding, lodging and financial rehabilitation to the patients. b. There are Two PRCs being currently operated by Indian the Army. These are located at Mohali and Kirkee.
Early Intervention Centres (EICs). a. (a) EICs cater to the identification of Children with Special Needs (CwSN) at an early stage, and thereafter the provision of 'free of cost' assessment and therapy towards the development of such specially-abled children. b. There are Five EICs currently being operated by the Indian Army. These are located at Command Hospital (Pune), Military Hospital (Secunderabad), Army Hospital (Research & Referral) (Delhi), Military Hospital (Jalandhar) and 166 Military Hospital (Jammu). c. On the basis of a positive response from the environment, addl Five more EICs are being established at Kolkata, Lucknow, Jabalpur, Guwahati & Jaipur.
Provision of Mobility Equipment. a. In order to facilitate and improve the quality of life of disabled dependents of the Army personnel, who are mobility impaired or are spastic/ paraplegic/ differently abled, financial support is provided by the Welfare Directorate of the Indian Army for purchase of mobility equipment. b. Financial support for the mobility equipment of under mentioned categories for disabled dependents of Se r v i n g p e rs o n n e l a n d Ex-servicemen is provided on basis of the recommendations by the appropriate medical authority :- (i) Standing Frame. (ii) Walker. (iii) Manual Wheel Chair. (iv) Motorised/ Electric Wheel Chair. (v) Modified Scooter/ Motor Cycle. Sports and Travel-related Sports Scholarships With an aim to promote sports amongst wards of serving personnel, sports scholarships are granted by the Army for the wards, who achieve podium finish at the National level in various sports disciplines. Travel Concessions. Indian Army is in collaboration with a multitude of travel aggregators, such as Yatra.com, Udchalo etc for discounts for Army personnel on base fare of air tickets booked through respective portals. Simultaneously, discounts on booking of hotels and cabs have also been offered to the Army by Yatra.com.
Miscellaneous CSR & Welfare Activities Welfare Projects To enhance the quality of life for the soldiers and their family members, welfare projects are planned every year by Indian Army. During the current year, the key welfare projects planned are as under :- c. Establishment of Holiday Homes. d. Upgradation of Sainik Aramgarhs. e. Provision of boats at Triveni Sangam. f. Establishment of Student Hostels. Donation to Armed Forces Battle Casualties Welfare Fund (AFBCWF). Armed Forces Battle Casualties Welfare Fund (AFBCWF) is a Tri[1]Services Fund, out of which ex-gratia is paid to Next of Kin (NoK) of battle casualties. This assists the NoK to overcome the financial hardships faced post demise of the gallant soldier. The fund operates purely based on voluntary contributions from citizens. Other CSR Initiatives. Indian Army's Welfare Directorate is also engaged in several welfare activities alongwith CSR projects to include :- (a) Rain Water Harvesting. (b) Ground Water Rejuvenation. (c) Provision of Electric Buses. (d) Old Age Homes.
Conclusion Over the past years, Indian Army's efforts to provide welfare measures and extend support to the soldiers, veterans and their family members have effectively been supplemented by the CSR donors. The recent initiatives have accrued commensurate benefits towards raising the morale of our brave soldiers deployed in the service of the nation and has provided an opportunity to corporates to contribute towards well being of Armed Forces Personnel.