New Delhi | 4th July, 2023
To emphasise the need for sustainability in developmental practices, UN Global Compact Network India (UN GCNI) organised the 11th Subir Raha Memorial Lecture at the SCOPE Convention Centre, Lodhi Road. The event, which is held annually to honour the legacy of UN GCNI's Founder-President, the late Mr Subir Raha, witnessed an address on "Sustainable Energy Transition" by Padma Bhushan Dr. V.K. Saraswat, Member of NITI Aayog and Vice Chancellor of Jawaharlal Nehru University (JNU).
Ms. Sunita Sule, the Vice President of UN GCNI, Western Region, India presented the opening remarks and apprised the business leaders and audiences about the committed work that UN GCNI has done towards implementing Sustainable Development Goals (SDG) successfully with an active engagement of leaders from across the sectors.
Mr Arun Kumar Singh, warmly welcomed the dignitaries and participants to the 11th Subir Raha Memorial lecture. He quoted "India is going to be the biggest global emitter of decarbonisation in the coming years. Our time has come now;things favouring us are demography, globalisation and decarbonisation".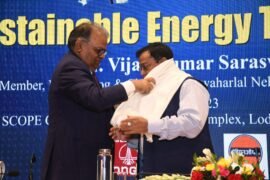 This year the 11th Subir Raha Memorial Lecture was graced by the esteemed speaker Dr V.K. Saraswat who spoke of various factors involved in India's transition to sustainable energy and the present scenario of India's drive for energy, asserting that the energy demand has tripled over the last three decades with a dominant role of coal and oil. While presenting a detailed study of government initiatives and the National Hydrogen Green Mission, he added, "The challenges in transition pathways are many: unaffordable cost of green hydrogen, technological barriers, high import of storage batteries among others." He then asked for more Public-Private Partnerships to come together to support the Indian economy's leapfrog to net-zero emissions by 2070.
The remarkable lecture by Dr V.K. Saraswat witnessed the immense participation of people from various organisations and sectors as UNGCNI paid tribute to his legacy and vision.
The 11th Subir Raha Memorial lecture was graced by the presence of the daughter of the Late Mr Subir Raha, Ms Shuva Raha who shared about the work style and the strategies of Mr Subir Raha that helped him make ONGC the 1st PSU to promote and improve the Oil & Gas sector (Energy sector) in India.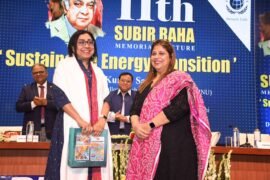 As the lecture came to a close, Mr. Prashant Tiwari, Vice President of UN GCNI, Southern Region, presented a vote of thanks to the speaker, dignitaries and attendees. He remarked, "The country is already treading the path of sustainability and green and clean energy is the way forward".
In conclusion, he expressed his gratitude to all the dignitaries and participants for their precious presence at the Lecture and insightful discussions by the speakers. He encouraged business leaders from across the sectors to join hands with UN GCNI to promote ethical and responsible business practices and implement SDGs towards achieving Agenda 2023.