13 October, 2023: Waaree Energies Ltd., the flagship company of the WAAREE Group, in the solar energy sector, has conducted a unique Tree Plantation Drive. This initiative was aimed at enhancing the environmental sustainability coupled with increasing the green cover of Gujarat.
The trees planted during the Waaree plantation drive added a personal touch by associating each tree with the name of a specific employee. This unique activity was a firm step towards encouraging the employees to participate actively in fostering a greener planet and also demonstrated the company's commitment towards a positive environmental impact.
As part of the Two Trees-One Employee system, over 2300 trees were planted. A similar drive was conducted last year with over 1000 trees being planted by the company. These plantation drives align with the overall objective of Waaree Energies Ltd. which advocates furthering renewable energy and sustainable practices.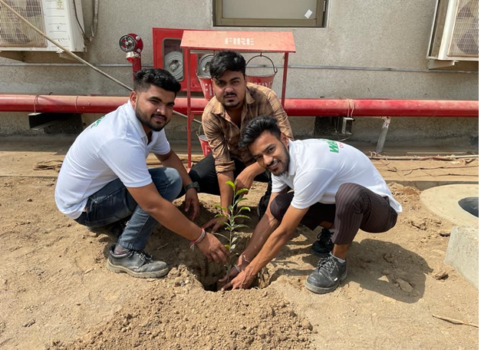 The cause of environmental preservation is also promoted by this Two Trees- One Employee policy as well as the dedication and commitment of every team member. Their involvement goes beyond just a one-time plantation to its' long-term care. They are engaged in its nurturing and foster a sense of responsibility towards the environment and this encourages them to adopt sustainable practices in their personal lives as well.
 Chairman & Managing Director, Waaree Energies Ltd. Mr Hitesh Doshi, started the plantation drive. The company has set up factories Tumb, Chikhli and Nandigram in Gujarat through which they undertake innovative initiatives to address environmental concerns towards spreading the green cover. Mr Hitesh Doshi Chairman & Managing Director, of Waaree Energies Ltd. said that he believed every individual has a role to play in preserving the environment and this initiative reflected the company's commitment towards environmental stewardship. The objective of planting trees with the employee names, was an attempt towards creating a personal connection between the individual and the environment, he added.
#WaareeEnergiesLtd#treeplantationdrive#Gujarat#TwoTreesOneEmployee #HiteshDoshi#Environmentalpreservation #personalconnectionbetweenindividualandnature #increasinggreencoverinGujarat #environmentalsustainibility