iDream Education pioneering Ed Tech Initiatives for progress,learning and growth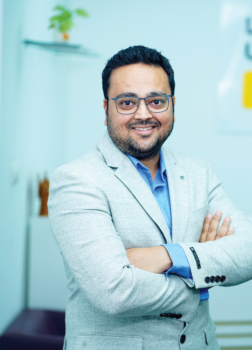 In this exclusive interview, Rohit Prakash, Co-Founder of iDream Education, sheds light on the company's pioneering EdTech initiatives that are contributing to the progress of the educational landscape and helping CSR/NGO initiatives or government entities Facilitate Universal Access to Learning and Growth How do you create synergy between your solutions and the CSR initiatives of Corporates? We create synergy by aligning the vision and Goals of our CSR Partners with the digital learning solution we implement. Our solution and our approach to implement & support is customised based on the objectives of our CSR partners.
An example of this, is our work with Cipla Foundation to assist over 4,000 Class 10 students during the COVID-19 pandemic. Their goal was to address device access and internet dependence issues. Here, we provided learning tablets with access to offline content on iPrep for grades 9th and 10th, enabling students to study from home independently. With online guidance from teachers, these students achieved successful results in their Class X board exams.
In your view, what are the most pressing challenges or gaps in the current education landscape that technology can help address? 
Most pressing challenge is: Learning Gaps in students leading to dropouts! Specific to edtech, the challenges are:
Lack of access to enjoyable digital learning content in local languages.
Lack of continuous teacher training on using technology in classrooms, leading to resistance in using digital content.
Implementation of difficult to setup and manage hardware, resulting in irregular use of technology in govt. schools 3. Can you share some insights into your organization's current CSR/NGO initiatives or government programs related to education and technology?
Key CSR initiatives include our work with:
Samsung in Karnataka where 200 + iPrep Digital Library with tablets and offline digital content has been set up in 200+ Karnataka Public schools.
Power Grid and the IndianArmy in Kashmir where 128 classrooms have been digitized with Smart Classrooms and tablet based labs.
Our key digital learning initiative is with DC office in Meghalaya where 166 classrooms have been digitized with Smart classrooms.
We were recently entrusted to deliver a Personalised Adaptive Learning solution – iPrep PAL by the Education Department of Haryana. Besides this, we were a part of the Think Tank, which worked on reviewing the ICT policy to include tablets/ notebooks, and charging rack for the purpose of setting up ICT labs in govt. schools.
How does your organization ensure that technology-based solutions are accessible and inclusive for all?
To ensure this, we have designed an easy to set up, manage and use Digital Library and Smart Classroom solutions require no extra wiring, space or furniture to set up.
iPrep works completely offline, eliminating dependence on the internet.
Interface is easy and joyful to use and its' local language instructions makes it accessible and inclusive for all.
iPrep Digital Library can charge multiple devices simultaneously and once charged 3-4 hours can be used for one day atleast, reducing dependence on electricity.
iPrep's compatibility with all hardware and OS, enables partners to set up digital learning infrastructure at a minimal cost.
iPrep offers multi-category curriculum aligned content such as animated lessons, syllabus books, practice, simulations, etc. enabling students to learn as per their interests.
With multi-grade access on iPrep, students can switch grades and access content of any grade to cover up previous learning gaps in a non judgemental manner. To conclude, iPrep ensures digital access to all students and teachers irrespective of their location, language preference, interest/ level in learning, making it accessible and inclusive for all.
What methods does your organization use to assess the impact of educational initiatives?
We conduct baseline, midline, and endline assessment and plot the scores across these three tests to check overall learning.
We do continuous chapter-wise monitoring with Practice and Test questions through on line reporting dashboard in iPrep. Our work in Meghalaya, is a very interesting example of this where students access digital content through a Smart TV and every month they undergo an assessment on tablets for the chapters learned in the previous month. Then performance is being evaluated on a monthly basis with continued focus on improving learning outcomes.