16 August,2023: In a bid to reaffirm its' commitment to CSR, ConfirmTkt, an online train discovery and booking platform, donated 88 wheelchairs at Secundarabad Railway station. The aim of this initiative under the Secunderabad railway station was to address the needs of the elderly, the differently abled individuals and others from the needy population.
The distribution of wheel chairs event was done at the Secunderabad railway station, amidst distinguished guests. Senior Divisional Manager Shri M Basavraj, Station Director Dr. Anirudh Pamar Zarupul, The Co-Founders of ConfirmTkt Mr. Dinesh Kumar Kotha and Mr. Sripad Vaidya were present. Various railway stations covered by the Secunderabad division, will be the recipients of the 88 wheelchairs.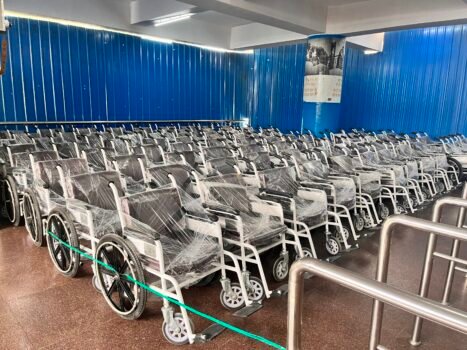 Commenting on this CSR outreach ConfirmTkt Co-Founder and CEO, Dinesh Kumar Kotha and Co-Founder and COO ConfirmTkt Sripad Vaidya said that the differently abled and elderly citizens face a lot of difficulties while boarding or getting off trains, or crossing footbridges in stations and cutting across various platforms, therefore this contribution would help create an inclusive environment for all travelers. Train travel would be made more convenient and comfortable for the needy. The vision of the cofounders is to facilitate seamless and comfortable travel and this initiative is well in line with their objective and mission. This will also be a positive contribution to society,
This train ticket discovery and booking platform is available both for Android and iOS. The unique value proposition of ConfirmTkt is that it predicts the confirmation chances for waitlisted tickets and gives alternate train and travel recommendations. It also offers a free cancellation option for train tickets which allows users to avail a full refund in case of change of plans. Real time train tracking is also available in the offline mode.
#Wheelchairs #SecunderbadRailwaystation #traintravel #needy #differentlyabled # Dinesh Kumar Kotha # Sripad Vaidya