6 October, 2023: The Indian nasal spray brand – Otrivin, has expanded its "Actions to Breathe Cleaner" program, spreading it across 10 government schools which has had a positive impact on 4000+ students and staff. The objective is to improve the overall air quality within the learning environments. Apart from installing 22 air purifiers in three government schools in Bengaluru in 2022, Otrivin has also installed 78 self-cleaning and sustainable air purifiers in 10 government schools of Delhi so that the children studying there can breathe cleaner air.
Category Head – Pain & Respiratory, Haleon India Mr. Bineet Jain mentioned that air pollution is a daily battle that we live with and children are the most vulnerable and adversely impacted by it. The company objective at Haleon is to deliver better health with humanity and raise awareness about the importance of breathing clean air and encouraging sustainable practices in schools. One of the worst hit areas is Delhi-NCR and after the success of their pilot project in Bengaluru and its positive impact, they are helping create a better and safer environment in Delhi -NCR he added. He was hopeful that the "Actions to Breathe Cleaner "program would inspire others to make the world a healthier and better place.
10 schools across the regions of Dwarka, Palam Vihar, Ghaziabad etc catering to underprivileged communities, were selected based on their location for their poor air quality and poor accessibility to clean air solutions in the area. The 78 air purifiers installed additionally will bring about a positive impact on 4000+students and teachers in that region.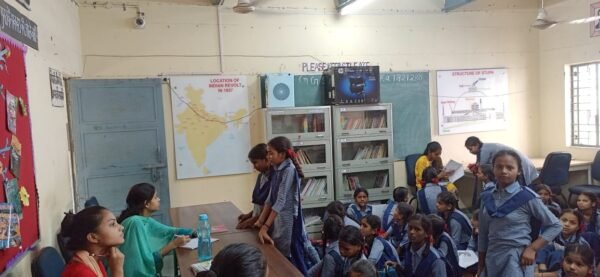 Head Principal, Government Boys Senior Secondary School GBSSS, Raj Nagar – I, Palam Village, Mr. Rajender Meena, said that as educators they work towards providing the best learning environments to every student. Rising air pollutions across cities in India, have a detrimental effect on children. The Otrivin "Actions to Breathe Cleaner" initiative will be able to provide a healthy and clean environment to both students and teachers.
This programme was launched in 2022 and three schools across Bengaluru with the lowest air quality were identified.  To improve the air quality of approximately one thousand school children every day 22 sustainable and self-cleaning air purifiers were installed. 
This initiative also aimed at encouraging people to take simple and small actions to breathe cleaner air. With a view to curbing air pollution these actions could be using public transport, walking short distances instead of driving and using carpool to name a few.
#Otrivin#ActionstoBreatheCleanerprogram#cleanair#BineetJain #Rajender Meena