Avaada Foundation the philanthropic arm of the Avaada Group, has since its inception, been working in the fields of Empowerment, Education, Environment, Youth Development, Health and Energy. Through its efforts a significant positive impact has been created across 15 states in India.
In compliance with Education for All (SDG 4), the foundation has adopted government schools in Mathura, Uttar Pradesh. The Foundation will transform these schools by renovating the dilapidated buildings and by providing access to quality education in government institutions that will be comparable with private institutions. With a view to facilitating bright minds to have access to quality education, and thereafter contribute to the country's progress, scholarships to the deserving and underprivileged students have been initiated by the foundation.
The foundation also supplies resources to government schools and endeavors to do away with the barriers that exist for the marginalized children. Schools in Gujarat, Maharashtra, Rajasthan, Uttar Pradesh and several other states have been provided Smart boards. Needy female students have been supplied with bicycles so that they may attend school without facing any difficulties in transportation. Digital learning centers in remote areas and community development centers that are aimed at the upliftment of communities have been established. A cutting-edge solar water heater has been installed by the Avaada Foundation in a boarding school. An uninterrupted access to electricity, a conducive learning environment are some other aspects that are looked after by the foundation, to ensure a productive educational journey for the students.
 In Rajasthan, a pioneering Model Anganwadi Centre has been established which has set a new benchmark for the development of early childhood in that region.
In keeping with the Healthcare Initiatives (SDG 3), the foundation has been dependable and offered great support during the COVID-19 pandemic. COVID-19 care hospitals have been set up in Rajasthan, Maharashtra and Gujarat. Community health emergency transportation facilities for a 40km radius, regular health checkups, eye checkup camps, distribution of free medicines for the needy are some of the other activities that are geared towards supporting the underprivileged.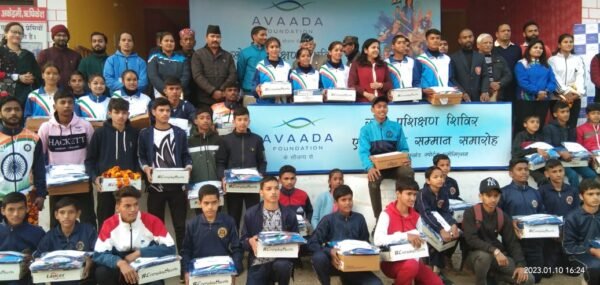 Empowering Youth and Women (SDG 5) has also been a core focus at the foundation. They have established sports fields in villages and provided sports materials to schools with the aim of promoting sports and games amongst the youth. The Foundation has trained women in handling gadgets and offering employment opportunities. They have also been provided training in tailoring, make up artistry, coding, enhancing their skill sets and grooming them for the job market.
The Foundation is also committed to Sustainable Energy Initiatives (SDG 7.) It has installed solar plants in remote villages in Ladakh as well as Jayarpur and Nagepur the adopted villages of the Prime Minister, thus making a contribution towards a greener future. Off-gid rooftop solar systems have been set up in government schools located in Rajasthan, Uttar Pradesh and Maharashtra.
The Foundation also contributes to the fight against hunger Fighting Hunger
(SDG 2.) It distributes ration bags to the helpless, in a bid to ensure that the needy don't remain hungry.
Avaada Foundation is working towards Nurturing Greenery (SDG 13) and making efforts to combat climate change. It has used Miyawaki's technique to plant trees. It has cared for over one lakh trees.  The saplings have matured and contributed to the environmental health and local eco systems. With a commitment towards an ongoing plantation drive the foundation is expanding the green legacy on a large scale.
#AvaadaFoundation #Nurturinggreenery #SDG #Fightinghunger #Empoweringyouthandwomen   #AvaadaGroup