18 September, 2023: In a heartwarming showcase of compassion and community unity, the "Hope Mantra" project, orchestrated by the First Step Foundation in Jaipur, succeeded in spreading joy and comfort among the elderly community. The event, held on September 18th, 2023, left an indelible mark, demonstrating the tremendous impact that collective goodwill can have.
The mission of the project was beautifully simple yet profound: to illuminate the lives of the elderly community members and express gratitude for their selfless sacrifices. It underscored the notion that while providing basic necessities is essential, nothing can replace the happiness and companionship that human interaction provides.
The project accomplished its objectives through several heartfelt initiatives. Personal hygiene kits, complete with essentials such as soap, clothes detergent, toothbrushes, toothpaste, coconut oil, Iodex (pain relief balm), Vicks (for congestion relief), and combs, were distributed to the elderly residents. Nutritious meals, encompassing fruits, vegetables, essential ration items, biscuits, toasts, and cookies, were provided to nourish not only their bodies but also their spirits. Additionally, clothing support in the form of sarees and bed sheets was extended to enhance the residents' living conditions and preserve their dignity.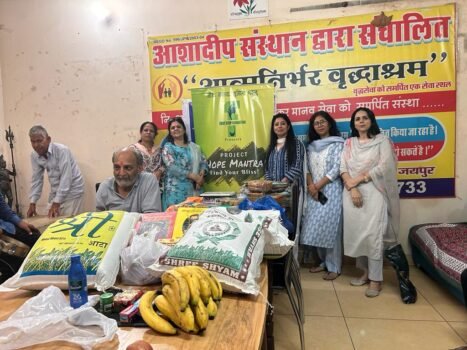 The event, hosted at the Atma Nirbhar Old Age Home, witnessed an outpouring of love and support from the community, leaving a profound impact on the elderly residents. The project didn't just supply essential goods; it created lasting memories and brought radiant smiles to the faces of our beloved elderly community members.
The Hope Mantra project serves as a poignant reminder of the significance of giving back and expressing gratitude to those who have selflessly shaped our lives. Although this particular event has drawn to a close, the spirit of Hope Mantra lives on, and the community eagerly anticipates more opportunities to make a positive impact.
The First Step Foundation extends its heartfelt gratitude to everyone who contributed to the success of the Hope Mantra project, whether through donations, volunteering, or simply sharing this heartwarming story. The support of its members made a monumental difference in the lives of our cherished elders, and for that, the community is eternally grateful.
Venue: Atma Nirbhar Old Age Home Date: September 18, 2023 Rajasthan First Step Foundation Team