2 August, 2023: Gautam Solar, is a leading Solar Module Manufacturer, headquartered in New Delhi, with 4 factories in Haridwar, Uttarakhand. The company has engaged in a host of CSR Activities, with the objective of fostering sustainable growth through technological advancements and societal upliftment. Their most recent CSR activity was the installation of solar street lights to illuminate a prominent shrine – Shri Aurobindo Ashram which people frequent to seek spirituality and inner peace. Apart from the campus of the Delhi Branch, they were also installed at Van Niwas, which is an ashram retreat in Nainital, and Madhuban Shri Aurobindo Ashram in Ramgarh.
Noted writer, educationist and Padma Shri recipient Tara Jauhar from Shri Aurobindo Ashram, appreciated this initiative by Gautam Solar and said that they were grateful for the continued support of the company to the ashram. She mentioned that their mission of creating a life for the common man that is superior to the present individual and common existence is in line with Gautam Solar's mission of moving towards sustainable and clean energy sources. The solar lights align with their principles of spiritual growth and responsible living. This renewable energy initiative will inspire the community to take steps towards a cleaner and brighter future.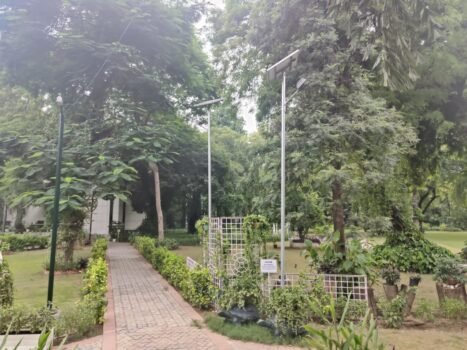 The magical environment at Shri Aurobindo Ashram will keep shining with these technologically advanced solar lights said Gautam Mohanka, Chief Executive Officer of Gautam Solar Private Limited. He went on to add that they were aware of the country's rising energy demands and were supportive of the country's transition to clean energy. The solar lights at a serene place like Sri Aurobindo Ashram was a step in that direction. The Kutumb Foundation for Qissagadh Active Library Program (which serves the lesser privileged youth of all ages through independent research, reading and collaborative learning) received a generous financial contribution from Gautam Solar Gautam Solar. The company conducted a free preventive health checkup camp in association with Dr. Chopra's Path clinic.
This catered to people form the low socio-economic strata at Shiv Mandir located in Daulatpura, Ghaziabad. An auto rickshaw awareness and outreach campaign with the hashtag # FightPollutionwithGautam was launched.
#ShriAurobindoAshram #Solarlights #GautamSolar #TaraJauhar
#Gautam Mohanka #Cleanenergy #underservedsociety