Empowering Women, Transforming Communities: Dana India's CSR Journey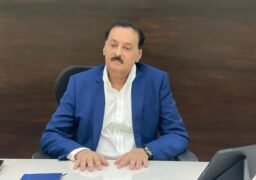 By Mr. Sunil Sehgal, Country HR & Safety Leader, DANA India
Dana's presence in India dates to the 1960s and through its facilities and affiliates, today manufactures an entire product portfolio, including axles, drive-shafts, motors, inverters, sealing, and thermal technologies for the automotive, commercial, and off-highway vehicle markets. There are more than 7,000 employees across 18 plants currently working for Dana in India, including a new 6,600 square-meter facility in Pune to support the company's electrified offerings.
DANA's mission is to create self-reliant villages and transform communities through various initiatives such as education, vocational training, health, rural upliftment, technology, sustainability, and disaster management. Their vision is to be a catalyst for positive change in these areas.
To support good citizenship in communities where DANA operates, we have established the Dana Care Foundation. This foundation focuses on addressing current and evolving community needs, with a special emphasis on education, neighborhood revitalization, art and culture, and improving well-being. As a part of DANA Global, we are aligned towards CSR activities and the company's commitment to human rights, diversity, equality, and inclusion. Through our women-centric CSR initiatives, they strive to empower women in society, generate employment opportunities, enhance self-resilience, build credibility, and contribute to a better society overall.
DANA recognizes that women are the cornerstone of our society and play a pivotal role as drivers of change. They firmly believe in empowering women to take charge of their lives and contribute significantly to their communities. As a charitable trust, DANA's women-centric CSR initiatives are rooted in the understanding that women's empowerment is crucial for the overall progress and development of society.
Through a proactive and positive approach, DANA acknowledges that women possess immense potential and talent. The focus is on nurturing and harnessing this potential by providing women with educational opportunities, vocational training, and support for entrepreneurship. By promoting gender equality, diversity, and inclusion, DANA aims to uplift women and enable them to become self-reliant, successful, and confident contributors to society. DANA's commitment to women-centric CSR efforts is driven by the belief that empowering women leads to transformative change in communities. By recognizing and amplifying the role of women as leaders, innovators, and changemakers, DANA endeavors to build a more equitable, progressive, and prosperous society for all.
Under Dana's CSR arm Dana Care Foundation Trust, we are focusing on 6 thematic areas for the development initiatives being carried out namely:  Education, Vocational Training, Health & Sanitation, Rural Upliftment, Sustainability & Disaster Management and Technology & R&D.
The above thematic areas are defined based on the social mapping our team is doing and connecting the stakeholders for a smooth implementation in and around the community.
The educational programs as a part of the scholarship have been awarded to 90+ females across our plant locations covering their education and living expenses during the tenure. The scholarship has proven to be a social status changer for these girls who were earlier deprived of their basic rights i.e. Education. The impact is clearly visible in the smiles they carry and has resulted in the upliftment of their families in society.
Menstrual Hygiene Awareness Session: DANA has conducted awareness sessions to educate women in the community about menstrual hygiene and the importance of using sanitary pads. As a part of this initiative, they have also provided Sanitary Pad Vending Machines, making menstrual hygiene products more accessible to women. Additionally, women are informed about proper disposal methods for used pads, promoting better sanitation practices.
Gynecologist's Visits: To ensure women have proper understanding and care for women-related health issues, DANA facilitates regular visits by gynecologists. This has empowered women to speak up and discuss their health concerns openly, leading to early detection and prevention of medical issues. It has been instrumental in addressing health problems before they escalate into more serious conditions like cancer or requiring surgeries.
Health Camps: DANA has organized health camps in collaboration with renowned hospitals, with a special focus on medical issues women commonly face. These camps aim to provide medical check-ups, screening, and essential healthcare services to women in the community. Over the past five years, more than 10,000 women have benefited from these health camps out of a total of 45,000 beneficiaries.
So far around 4000+ females were trained in different areas through our Vocational Training Centers which are helping them to be self-reliant. During H1 2023 around 300+ females got the opportunity to skill themselves in job-oriented domains.
Our Vocational Training program has led to a huge success in generating self-employment in the community resulting in bringing positive change by generating income for their families and bringing them to the mainstream of society. The women who were earlier dependent on the other members of society are now generating income and taking care of their family needs.
Dana India's commitment to empowering women and transforming communities through its CSR initiatives is a testament to its vision for a more equitable and prosperous society. By recognizing the vital role women play as leaders and changemakers, Dana strives to be a driving force for positive change, leaving a lasting impact on the lives of individuals and communities alike.
#Empoweringwomen #DanaIndiaCSR #Education #VocationalTraining #HealthandSanitation #RuralUpliftment #SustainabilityandDisasterManagement #TechnologyandR&D.  #Sunil Sehgal