9 August, 2023: An announcement for the application process of the 2023-24 "Legrand Empowering Scholarship Program'' was made recently.  Initiated by Group Legrand India, a known name as a provider of electrical and digital building infrastructure, this scholarship is focused on deserving girl students, transgender students, and differently abled students from all across India. It encourages applications from these categories. The organization is certified by GEEIS (International Certificate for D&I Commitment) and as a socially responsible company has been active in the area of gender equality. This scholarship was established in 2018 with a view to supporting the educational initiatives for girl empowerment.
Ever since it was initiated, this program has supported more than 400 + girl students including differently abled and transgender students who are studying Architecture, Engineering, Technology, Finance, Science and other associated fields, from reputed colleges and universities from all over India.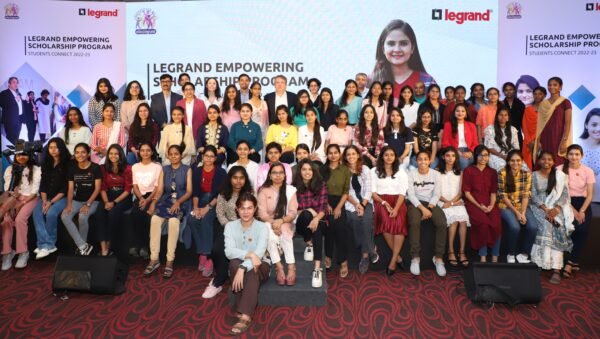 CEO & MD of Group Legrand India Mr. Tony Berland while commenting on the Legrand Empowering Scholarship progam said it was a testament to the company's commitment to foster a diverse and inclusive academic environment. He went on to add that the company believed in the power of education that had the ability to transform lives. Their aim was to empower deserving girl students, differently abled students and transgender students with education so that they could build a brighter and more equitable future for them. Apart from providing financial support for education, in 2022 Legrand has initiated a Student Mentorship Program. This program offers a holistic development to nurture future women leaders. The key components of this program are mentoring, confidence building, providing life skills, soft skills and offering career guidance.
The Legrand scholarship has successfully registered 50 beneficiaries who have completed their mentorship programs and every year fresh batches are welcomed and enrolled.
Buddy4Study had partnered for the scholarship program with Legrand to facilitate the application and selection process. The 2023-24 Legrand Empowering Program aims to support 100 scholars. The scholarship benefit will continue till the student successfully completes the academic program based on their performance.
The Buddy4Study portal is open for the enrolment of interested students.
# Legrand India #Mr. Tony Berland #Legrandscholarship #differentlyabled #education #transgender #girleducation #Buddy4Study #education #equalopportunityeducation #diversity #genderequality #inclusion