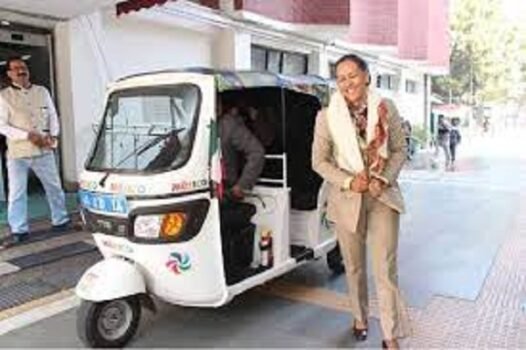 Melba Pria, The Mexican Ambassador to India
In Delhi's show-off circles, she uses a CNG-powered auto-rickshaw for her official commute. But her rickshaw painted with lovely textile floral designs has its style. The Mexican Ambassador to India Melba Pria, in an interview with CSR TIMES, shows her concern for increasing carbon footprint and talks about Mexico's determination to seek new and better ways to improve the quality of air.  
India and Mexico have had a cordial relationship since 1947. How do you view the relationship now and which are the areas you are focusing on to strengthen the bond? Also, tell us about the areas yet to be explored? Mexico and India have maintained cordial and friendly relations for over 66 years, and Mexico was the first Latin American country to recognize India's independence.
Today, we are both emergent economies and young democracies. We aim for a relationship of the future, one from which the Indians and Mexicans, those who are 15 to 20 year old today, will reap the benefits in the following years. India and Mexico are among the youngest countries in the globe: 26 per cent of the Mexican population is between the ages of 15 and 29, while 30 per cent of the population of India is between the ages of 10 and 24. These new generations are the ones who will sustain the relationship in the years to come, so we want them work together on issues that work for them: more education, more jobs, energy security, digital inclusion and improving lives through science and technology. Our bilateral trade has increased substantially from $1.8 billion in 2006 to $6 billion in 2015. We are in the process of both deepening and expanding the areas of the relationship, and this figure will continue to increase. For the first time, Mexico surpassed Brazil as the preferred destination of India's exports to Latin America.
The growth of the trade relationship can be attributed in part to diplomatic and promotional efforts, as well as complementarity between economies. The energy environment is important. As we produce the kind of oil India consumes and refines, Mexico can be a key partner for India's energy security. We also want to collaborate with India in identifying and using clean sources of energy. Both our countries have shown commitment in this area, including ratification of the Paris Agreement. Another sector that is essential to this relationship is science and technology. We continue to promote joint research programmes in our current strategic areas: water, biotechnology, solar energy and seismology. We also hope to collaborate in more areas and continue exchanges between students and teachers. There are many plans for space cooperation, which is one of the most successful areas of our relationship. The Mexican Space Agency (AEM) and the Indian Space Research Organisation (ISRO) are in constant contact to eventually develop Earth observation programmes and joint launch of satellites. This is also a key moment for Mexico to use cultural diplomacy to bond with India.
Much before red beacons were banned from VIP vehicles, you travelled by an auto-rickshaw. How did the idea come to you and why was such a decision taken? How has been the response of the people around you—the places you visit and the people you meet in your official capacity?
My main aim is to promote my country, Mexico, by using a symbol of Indian culture, and at the same time reduce my carbon footprint. I am concerned about the air quality here, as although I am a Mexican, today Delhi is my city. The Indian auto-rickshaw runs on CNG, so it is less polluting than a regular fourwheeler. It is also compact, helping us manoeuvre through traffic jams. I want to convey to everyone on the streets of Delhi that Mexico is a magical, fun and colourful place. Senkoe, a Mexican street-artist recently painted the auto in vibrant colours depicting the traditional flower designs found on textiles from the southern state of Oaxaca. The auto has received an overwhelmingly positive response not only from the people of Delhi but across India as well. People on the street smile, and even approach us to request for a ride or a picture. It makes me happy to connect with the Indian people and to promote my country in an Indian manner.
Pollution is a common problem for India and Mexico? What could be the possible solutions and what measures has Mexico taken?
Delhi and Mexico City share a geographic location that impacts daily life due to air pollution. The draft State of the Environment Report 2015 states 6.9 lakh air pollution deaths from particulate matter and ozone in India. In 1992, the United Nations declared Mexico City as the most polluted city in the world. The city began its fight against air pollution with the Hoy No Circula policy, a vehicle mobility restriction programme, restricting circulation of around 20 per cent of vehicles from Monday to Friday, depending on the last digit of their licence plates. Most factories were relocated and forced to change their air filters, quality of gasoline was checked, and efforts were made to clear fuel of lead, aluminium and other pollutants. By 2012, we succeeded to have 248 days of air quality considered as good. However, we still face challenges due to a population of around 20 million in the Mexico City metropolitan area and a geographical location that, like the one in Delhi, is determinant for the impact of air pollution.
Although there has been notorious improvement, Mexico City has not yet won the battle against air pollution. This is a subject we keep working every day and one in which we will not give up: we will continue to seek new and better ways to improve the quality of our air. So far, the experience of Mexico City has been linked to expansion of the metro system and creation of alternative transportation which helps ease dependence on private vehicles. Today, Mexico City metro is one of the largest systems in the world with 12 lines, 195 stations and over four million users every day. Additionally, the government implemented Ecobici, a bike sharing programme and Metrobus, a bus rapid transit system based on best international practices. I believe such comprehensive approaches and openness to the best ideas make a huge difference and can be an inspiration for other major cities in the world.
Mexico is already a big manufacturing hub and India is inviting countries overseas to come and make in India. Which lessons can India learn from Mexico?
Today, Mexico is a global leader in manufacturing. Its manufacturing exports exceeded $374 billion in 2016 and 66 per cent of those exports are medium and high technologies. Mexico is the seventh producer and fourth exporter of new vehicles. It is also the leading exporter in Latin America, fifth globally, of household products. An area in which India is making strides is already a mature industry in Mexico: aerospace. Mexico is the seventh supplier to the American aerospace industry. We are also leaders in electronics: we are the third exporter of computers, second of flat screen TVs and sixth exporter of mobile phones.
Attaining this leadership was a process. Over the past several decades, Mexico had a similar programme to Make in India which was named Hechoen Mexico (Made in Mexico). That programme helped the country evolve from a simple low-tech, high-volume, low-mix assembly-based manufacturing model into an emerging industrial powerhouse with in-country capabilities to produce a wide range of sophisticated items, from high-tolerance, precision machined components that are incorporated into modern jetliners to delicate and highly calibrated devices that are used in lifesaving medical procedures. Today, Mexico is not only producing goods but also engaging in the research and development process.