7th June, 2023:Mondelez India Foods Private Limited (formerly Cadbury India Ltd.) has had an Indian presence for the past 75 years. In 1948, the company introduced Cadbury Dairy Milk and Bournvita in India. The company Headquartered in Mumbai has sales offices in different cities, manufacturing facilities in Madhya Pradesh, Himachal Pradesh, Maharashtra, Andhra Pradesh and a vast distribution network across the country.
One of the most pressing challenges that has gained significant attention as an impediment to sustainable waste management practices is the recycling of multi-layered packaging. The difficulty is on account of the complexity of packaging materials and the existence of infrastructural constraints within India. Recycling initiatives are a key focus area for companies that have recognised the urgent need for sustainable solutions.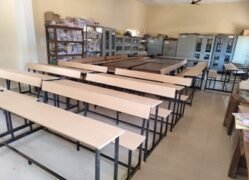 In the year 2021 in collaboration with Hasiru Dala and Trashcon, Mondelez India worked towards catering to consumer needs never losing sight of the objective of reducing their environmental impact.
 In the year 2021, Mondelez launched an innovative project to transform multi layered plastic waste into   
    in 2021, Mondelez embarked on an innovative project aimed at transforming multi-layer plastic waste into 'WoW Boards' – a sustainable alternative to traditional plywood. These WOW Boards have proven that they can be versatile and environmentally friendly, offering numerous applications that contribute to sustainable practices.
Senior Director, India & Lead, Asia Pacific, Middle East and Africa (AMEA), Corporate & Government Affairs, Mondelez International, Ophira Bhatia mentioned that they realised the need for bold experimentation and innovative solution while navigating the challenges of recycling multi layered plastics within the constraints present. He stated that in their pioneering pilot project they transformed multi-layered plastics into Wow Boards that were an alternative to conventional plywood vis a vis durability and sustainability. He was appreciative of Hasiru Dala and TrashCon for their expertise and invaluable collaboration.
Since the inception pf this project, Mondelez India has converted approximately 600 MLT tons of plastic successfully. The deployment of WoW or waste out of waste boards in different locations of Bangalore city has registered several successful applications and use cases.  Tables and chairs have been created and supplied to four schools
 The shelter at Swachhagraha Kalika Kendra has seen a replacement of tetra pack sheets used for the existing roofs. The structural integrity of the shelter has been increased and it also establishes the potential of WoW Boards as a sustainable substitute for the traditional construction materials.
At the Swachhagraha Kalika Kendra the efficacy of WoW Boards in designing furniture was also showcased.
Mondelez India has shown the need for responsible waste management practices and how upcycling can be used.
——————————————————————————————————————————————
     # Mondelez India Foods Private Limited # waste management #Ophira Bhatia # Swachhagraha Kalika  Kendra   # pioneer