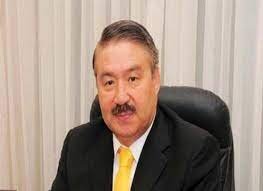 Mr. Bulat Sarsenbayev, Ambassador Of Kazakhsthan
A Lot Of Scope For Expanding Trade Ties Between India & Kazakhsthan
In an interview with CSR TIMES, Bulat Sarsenbayev, the Ambassador of Kazakhsthan to India, said that Kazakhstan has already initiated a "Green BridgePartnership" to bring together governments, international organizations and private businesses to find transnational solutions to sustainable growth.
India became a full member of Sanghai Cooperation Organisation (SCO) recently. Do you foresee any change in the relationship between India and Kazakhstan?
India had been an observer of SCO meeting since 2005 and has participated in ministerial-level meetings, which focused on security and economic co-operation in the Eurasian region. As a full member of SCO, India like other member countries, aims to achieve regional and global stability and prosperity, especially in recent times, when international terrorism threatens security throughout the world. Of course, India's accession to the SCO also affects bilateral relations between our two countries, but it will only affect it in the best way. The traditionally developing friendly relations and cooperation between Kazakhstan and India will find their continuation on one more international platform.
As a full member of SCO, India will strengthen its position in Central Asia. Kazakhstan as the main trading partner of India in Central Asia and the second largest partner in the entire post-Soviet region can be a key to Central Asia for India.
It is my considered view that thanks to the political will, desire and a clear understanding of the importance of developing cooperation between Kazakhstan and India as not only major countries but leaders in their region, the leadership of the two countries wishes to do its best to strengthen the friendship and the stable partnership in all areas of cooperation between our countries.
India is looking forward to strengthening its trade relations with Central Asian countries. How does Kazakhstan perceive it?
Both India and Kazakhstan share common perceptions about the need to have mutually advantageous tradeeconomic relations.
Right now, Kazakhstan is the largest trading and strategic partner of India in Central Asia. The trade turnover between India and Kazakhstan in 2016
was $618 million. This exceeds the total turnover of India with all the other Central Asian countries. The total Indian direct investments in Kazakhstan have been $245 million from 2005 to 2017, and Kazakhstan investments in India are $83 million. Around 400 companies are registered in Kazakhstan today with Indian participation and more than 100 of these have opened accounts in the joint Kazakhstan-India "TengriBank" in Almaty.
However, the trade turnover between the two countries does not match their potential. There is a lot of scope for expanding it, especially through engineering goods, mining, chemical and petrochemical industry, agriculture and services. Also the prospective areas of cooperation between Kazakhstan and India are energy, including atomic energy, information technologies, transport, space and military-technical collaboration.
Kazakhstan Indian Business Council (KIBC) is doing significant work on finding business partners for Indian businessmen interested in working with Kazakh partners and for Kazakh businessmen looking for partners in India. KIBC is a non-governmental, non-commercial organisation that has been created for expanding and further developing business contacts between Kazakh and Indian business circles in such sectors as banking, finances, manufacturing, construction, transport, technologies, energy, education and medical sector.
Kazakhstan is a long-term supplier of uranium to India. Any plan with India on renewable energy?
Kazakhstan is not only the long-term but also the largest uranium supplier to India. Our uranium cooperation started in January 2009, when the "National atomic company Kazatomprom" and "Nuclear Power Corporation of India" signed a MoU. In November 2009, a contract was signed for the supply of 2.1 thousand tonnes of uranium concentrate by 2014. On its expiry, a new contract was signed between "Kazatomprom" and the Indian Department of Atomic Energy for supply of 5,000 tonnes of uranium concentrate by 2019.
Nowadays reducing our dependence on energy from hydrocarbons and their impact on the environment is at the centre of our transition to a "green" economy. Both Kazakhstan and India have enormous potential in renewable energy, particularly in wind and solar.
Kazakhstan has already initiated a "Green Bridge Partnership" to bring together governments, international organizations and private businesses to find transnational solutions to sustainable growth. The programme was initiated by the Republic of Kazakhstan at the meeting of the 66th Session of the UN General Assembly and approved at the United Nations Conference on Sustainable Development. The programme is aimed at promoting cooperation between countries, the business community and the general public to support the transition to a green economy.
A catalyst in this process is the EXPO 2017 on the theme of "Future Energy" which is being hosted in Astana currently. The theme is aimed to concentrate on the future of energy, and on innovative and practical energy solutions and their impacts.
India's participation in EXPO 2017 has become more significant due to Prime Minister Narendra Modi's recent visit to Astana. During his twoday visit, he attended the SCO summit and inaugural ceremony of exhibition where he lauded the theme "Future Energy" and invited Kazakhstan to join international Solar Alliance.
Tell us about Kazakhstan's policy on CSR? How has it contributed in the growth of the nation and its people? 
In Kazakhstan, the tradition of social responsibility of the state takes roots from Soviet times. The government took responsibility for the provision of public goods and social services. Trade unions, assistance to socially vulnerable groups and state subsidies in healthcare, education and employee welfare were an important function of the state. Nowadays, CSR has become an ever increasing topic of interest among researchers and practitioners in Kazakhstan. Strategy "Kazakhstan 2050" sets a goal for the country to become one of the thirty top world economies. It envisages development based on innovative economic and social principles taking into account modern global, regional and local challenges. Numerous CSR related public and private initiatives have been established in response.
In 2008, the first National Forum on Corporate Social Responsibility was held to foster dialogue between business and the government on RBC. The President of Kazakhstan Nursultan Nazarbayev launched the Paryz award at the Forum to recognise leading enterprises in the field and to provide
incentives for integrating responsibility into decision-making processes. Another main outcome was the signature of an agreement between the Ministry of Labour and Social Protection of Population and socially-focused 15 organisations that aims to promote UN Global Compact Principles, particularly in the area of social and labour relations. In addition to the National Chamber of Entrepreneurs of Kazakhstan (formerly National Economic Chamber of Kazakhstan Atameken Union), Eurasian Natural Resources Corporation, and Union of Producers and Exporters of Kazakhstan, more than 226 enterprises have signed this agreement.
In 2012, the Board of Directors of Samruk-Kazyna, Kazakhstan's sovereign wealth fund, adopted its own CSR policy. This policy focuses on social and labour relations, training and development, safety measures in the workplace, environmental sustainability, and social projects spending. The fund manages the shares of more than 400 companies, mostly partly or fully state-owned. Samruk-Kazyna is the largest investor in Kazakhstan.