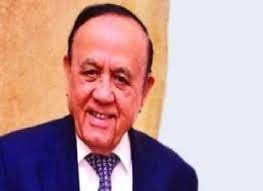 Mr. Gauhar Nawab, Hotelier Of United Kingdom
FINDING SHELTER FOR THE HOMELESS : GAUHAR NAWAB Leading hotelier of UK Gauhar Nawab in an interview with Harish Chandra
Gauhar Nawab reached United Kingdom in difficult times. Removed from his hearth and home, he struggled hard to make the two ends meet. On having achieved success, he works for the settlement of the homeless especially those who had to leave their country.
The 76-year-old successful hotelier and socialite Gauhar Nawab arrived in UK from India in 1961 December to do a degree in law and become a Barrister. Soon thereafter war between India and China broke out. The war blocked transfer of funds from India to the United Kingdom and he could not pay fee for the degree. To overcome the shortage of funds he picked his first job – that of a cleaner; then became a baker. "I used my earnings to pursue studies and finally qualified as a company secretary," says Nawab, who now ranks among successful businessmen of UK.
"I worked for 3 years in a company from 1967 to 1970. But gave up the job to start my own business in what's today called the realty sector. I first tried my hand as a builder and started to buy and sell property.I made my first fortune in 1974 and then I put all the money in hotel industry," adds Nawab.
"I started to buy small hotels and expand them into bigger property. The first hotel I had bought was for eight-and-half thousand pounds with nine rooms, which I expanded to 65 rooms and then I carried on buying more and more hotels. Today I have 14 hotels and 300 properties. I have 100 percent ownership in these properties," says Nawab.
According to the records of the registrar of the companies of the UK, Gauhar Nawab, born in 1940, is today associated with at least 46 companies largely in the hotel industry. Companies associated with him at least have £270,940 shareholder value and £83,539 cash.
"My partner is my wife and there is a story to go through.I have been through lot of difficulties but the difficulties are here to be resolved. There was a time in 60s when there was too much racism but then there is a saying — survival of the fittest.If you mind your business you don't face any problem; if you work hard you never go wrong and people would like you and respect you and give you more love. My turnover is 35 billion. I keep on opening more and more hotels," says Nawab, now 76 years old.
"And I am a man who came from Lucknow not from Delhi or any other metropolitan. It was very difficult as Lucknow did not have the work environment of metropolitan cities. It was a city of Nawabs. I came out from that scenario – first the elementary at Sadabad and then Krishna College. Finally did my graduation from Lucknow University. I was president of Urdu Society," says Nawab recalling his early years.
I WOULD LIKE TO GIVE OUR YOUTH THE MESSAGE THAT KHUDA NA KARE KI KOI SHAKHS APNE GHAR SE BEGHAR HO AUR JAB INSAAN BEGHAR HOTA HAIN (GOD FORBID THAT ANYBODY SHOULD BE FORCED TO LEAVE THEIR HOME FOR THE HOMELESS) BECOMES A BURDEN ON SOCIETY, THEY SHOULD HAVE A BELIEF IN THEIR NATION AND A VISION ABOUT WHAT THEY WOULD LIKE TO DO
"I used to organize a lot of functions but here there is nothing of that kind.There is only commerce and work. This is a machine factory where people come in the factory and work and the one who works becomes successful. When I came, I was used to stay with an English family and used to eat that food only. We did not have any identity of our own. But things are different today," adds Nawab, who is now the patron of the India International Foundation – which supports Indian culture in the UK – alongside Labour politician and longest-serving MP of Asian origin Keith Vaz. He is also the international president of the NRI Welfare Society of India.
"With passage of time I forgot everything that happened to me in past.Now I have two children and I have a wife, who unfortunately suffered a brain hemorrhage four years ago. Now she is doing well. I would like to tell that whatever I do, I become successful because there is the blessing of god and parents," says Nawab.
"I am trying to make a place for the poor people where they can rule, they can get the necessary supplements and medicines, and I'll manage all of this through the money I earn in my business. Many of my employees are Indian; I provide them job opportunities. I believe that in business a person should not bring in religion, language and politics. As I believe that the business which is clean will have no problems. I have a very diverse group of employees. I have a message for my country that if anyone wants to become successful he should remember — if you'll work you'll be successful. And failure is a diseases and it catches the one who tries to hurt his religion or anything. I would like to help the people of our country if they want to work in London in hotel industries," adds Nawab.
On giving it back to the society, Nawab says, "I pay a very big tax with insurance and also do some charity. My charity is going to look after the children who are suffering with cancer; these are some of my social contributions."
"I would like to give our youth the message that khuda na kare ki koi shakhs apne ghar se beghar ho aur jab insaan beghar hota hain (God forbid that anybody should be forced to leave their home for the homeless) becomes a burden on society. They should have a belief in their nation and a vision about what they would like to do.