News update/Press release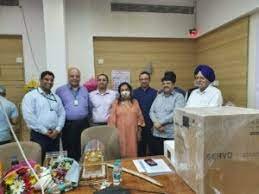 Provision of Essential Medical Equipments to Guru Nanak Hospital
26th October, 2021, Mumbai: The Acres Foundation, which is behind the highly acclaimed and award winning The Green Acres Academy and Seven Rivers International School, hosted a donation drive today where they provided hospital equipments to Guru Nanak Hospital. The event was hosted at Guru Nanak Hospital where Shri Manoj Kotak, MP from Mumbai North East, inaugurated the event and presented the hospital with all the equipments. The event also witnessed the presence of various board members from The Acres Foundation, including Mrs. Neela Parikh, Director of Acres Foundation.
Owing to the pandemic, Acres Foundation launched an initiative called Acres Cares whose pure purpose is to support the general public with medical facilities through Covid Care centers. Since Guru Nanak Hospital needed some more essential hospital equipments to manage its patients, Acres Cares made this donation in order to help the hospital serve more Covid patients in an uninterrupted and efficient manner.
Following equipments were handed over to the Convenor of Guru Nanak Hospital Trust, S. Bhupinder Singh Manhas:
03 numbers of Maquet Ventilators
50 numbers of Syringe Pump
06 numbers of Semi Motorized Bed
06 numbers of Fully Motorized Beds
06 numbers of Mattresses for Fully Motorized Beds
06 numbers of Mattresses for Semi Motorized Beds
The equipments are valued at ₹6,397,567. With this donation, the hospital will look towards servicing more patients efficiently and helping them get better. Expressing his thoughts, Mr. Rohan Parikh, Director, The Acres Foundation said, "We are an organization that believes in giving back to the society. This initiative is our humble effort of helping the hospital and its patients. We plan to make more contributions and address the major pain points where we can be of service." Adding on to what Mr. Parikh mentioned, Mr. Manhas said, "On behalf of the entire hospital I would like to thank Hon. Mr. Manojbhai Kotak, Member of Parliament to get donations of ventilators and other lifesaving equipment through The Acres Foundation for the hospital."
Earlier, at the onset of the Covid-19 pandemic, The Acres Foundation, through its Green Acres Green Cross initiative, raised over ₹45,00,000, all of which was donated. 120 PPE kits, over 50,000 cooked food packets, and over 5000 grocery kits were distributed to help those in need during the lockdown.