28 August, 2023: A partnership between The Flipkart Foundation, under the Flipkart Group which is one of the leading digital commerce entities and TechnoServe which is a non-profit economic development organization, has led to the launch of a program aimed at empowering FPO's or Farmer Producer Organizations. The lives of over 7,000 direct and indirect beneficiaries within the farmers' communities in the two states will be positively impacted by this initiative. From these, 50% will be women from farming households.
Specialized training workshops will be conducted to impart the necessary skills to the Farner Producer Organizations as part of the programme. This initiative will also help the FPO's in enhancing their business output through an improvement in packaging, branding and marketing. This project will be executed in Maharashtra and Andhra Pradesh over a period of 12 months.
During this programme eight FPOs in Maharashtra and four FPOs in Andhra Pradesh will be trained. This program will transform the livelihoods of farmers in these two states.
Specialized training workshops to equip key FPO members with the requisite skills to create and manage brand assets, will be a part of this project. They will also be equipped to design effective marketing strategies, and also enhance visibility. Packaging design and solutions, optimizing shelf-life extension, ensuring food safety, supporting business growth and minimizing environmental impact will also be taught through specialized workshops. Post training support by marketing experts, along with follow up sessions with FPO Boards Of Directors and lead farmers will further their access to strategic advice and assist them in addressing implementation challenges.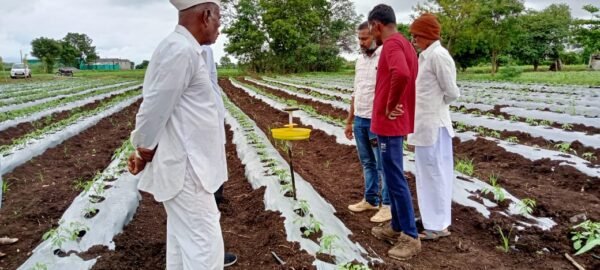 Chief Corporate Affairs Officer, Flipkart Group, Rajneesh Kumar, said that the Flipkart Foundation is committed to creating a positive social impact and cultivating prosperity and enabling the empowerment of farmer communities was a key facet of the company's commitment. He mentioned that their collaboration with TechnoServe was a testament to this vision. By empowering the FPO's through training in Maharashtra and Andhra Pradesh and equipping them with knowledge and tools needed to thrive would bolster the agricultural ecosystem in the two states. Together they were working towards sustainable growth, a brighter future and elevating livelihoods in those states he added.
Senior Practice Lead, TechnoServe India, Krishnan Hariharan commented, that the farmers faced multiple challenges in the agricultural sector and this was largely due to the lack of information or the absence of marketing skills and therefore they could not capture commensurate value for their produce.  The support to FPOs can lead to an improvement in sales, an advancement in environmental sustainability and prevention of losses in quality and quantity.
Overall prosperity in rural communities would receive a fillip through this initiative which would strengthen the FPO framework and smallholder farmers would receive an upliftment.
#smallholderfarmers #KrishnanHariharan #RajneeshKumar #empoweringFPO's #Maharashtra #AndhraPradesh #agriculturalecosystem